1. Respite, Thy Name Is Stanley
I was pretty undecided about going tonight. I had a ticket, but due to the ongoing problems at the ground I wasn't prepared to take my daughter. The Club gave plenty of assurances today about how they'd increased security, but given they forgot to take a back four with them to West Brom I wasn't quite prepared to take them at face value.
2. When Losers Are Winners
In the end I need not have worried. Just under 40,000 fans were there and the overriding feeling was one of ennui and boredom. Around 500 Accrington Stanley fans spent the evening having fun and going bonkers behind one of the goals, and their team did them proud. In the end, nobody really lost tonight.
As well as scraping through courtesy of Dimitri Payet's sumptuous last minute free kick, West Ham also won off the pitch as we all got through the night without fighting with each other - which really shouldn't be newsworthy but absolutely is. Indeed, the crowd probably deserve some credit for tonight as they turned up but didn't turn, either on each other or the team.
Anyone quibbling about the atmosphere isn't accurately recalling these equivalent games at Upton Park. These matches are never enjoyable. There is no winning, only not losing, and that isn't quite the same thing. The only exception perhaps being the
Battle of Green Street
of 2009.
3. Are You Not Entertained?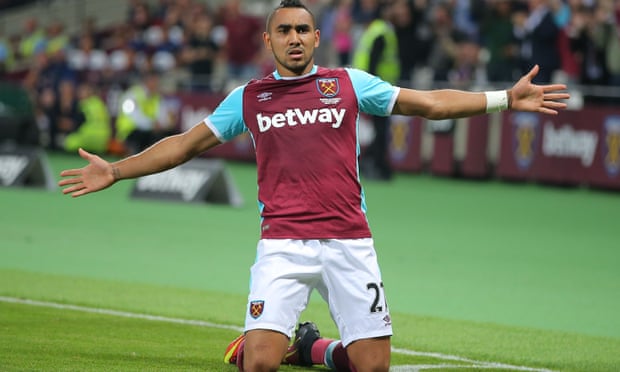 Not really, Dimitri, but I still love you.
4. The Struggle Is Real

Make no mistake - on the pitch, West Ham were dreadful tonight. The first half was the worst 45 minutes of entertainment I've been subjected to since my wife once made me watch an episode of Scandal. Disjointed and with no real pace to our play, we were played off the pitch by an Accrington team who actually carried far more threat then West Ham.
Things improved in the second half, although short of Arvelo Arbeloa accidentally electing Donald Trump into office during the interval it's hard to imagine how it could have gotten worse.
Payet, Lanzini and Antonio were introduced, which is kind of like asking The Three Tenors to sing with Boyzone, and things perked up but not to a significant degree. Accrington continued to press, and their heroic efforts were almost rewarded when Sean McConville fired narrowly over late in the second half.
By the time Payet stepped up, I just wanted it to end. I didn't really care how - after 96 minutes of tedium, there was an overhwelming feeling of "let's just all get the fuck home, eh lads?". The best thing about the goal was the inevitability of it. It just looked right. Centrally placed so the keeper couldn't tell which way it was going, and far enough out that it could get up and over the wall easily enough. As the ball arrowed in, the guttural roar that followed was more of relief than anything else.
5. Zaza Some More
I decided to pay close attention to Simone Zaza tonight given that he is 12 games from triggering a €25m transfer and doesn't appear to have any control of his legs.
By my estimation, he managed one successful pass tonight. In 96 minutes. That's not an exaggeration - I literally only remember one time he retained possession, with a little return pass to Arthur Masuaku in the first half from a throw in. I'm sure my PlayerCam might have been a little off as I took to the drink before, during and after this game, but it generally felt like an astonishing display of ineptitude from an international player.
He did have one very decent effort well saved in the second half, but generally Zaza looked like a rich guy who had paid £250,000 at a charity auction to play up front with his heroes in a testimonial.
It's three games, so we don't need a rush to judgement quite yet. Zaza played for Juventus and Italy and has a pedigree that can't be denied, but he has shown the square root of nothing thus far. He has yet to hold the ball up with any regularity and his link play is right up there with my grasp of Sanskrit. At this point his only vaguely enticing quality is that he is not Jonathan Calleri, which is really not an endorsement.

Let's be honest, had Ashley Fletcher turned in these three performances we would have patted him on the head, said "You're not quite ready yet" and sent him on loan to Crewe.

There is an enormous elephant in this particular room at present. If, ten games from now, Zaza is still this bad will Bilic continue to start him if both Carroll and Sakho are still out? He is better than Calleri but cannot possibly be worth a €25m outlay, and yet the chances of us having better options for every game for the rest of the season are almost zero.

It will be fascinating to see whether boardroom considerations trump tactical ones as we struggle on through our dark night of the soul.
6. What's Gone Wrong?
Even allowing for the occasion, we lacked any coherence to our play last night. There is a palpable difference between this years team and last that seems to begin with our full backs. Last season Cresswell and Jenkinson played almost as auxiliary wingers at times, giving us a thrust to our wide play that has been absent so far this time around.
Our full backs have been far deeper this season which has had the curious double impact of weakening our attacking options but doing nothing to make us any more defensively solid. Admittedly, this has been in part due to our central defenders also starting off the year like they've dosed up on lithium, but the point remains. We look terrible at the back, although Arbeloa does at least look like he wants to play there, thus putting him ahead of the other contenders for the role.
Our central midfield continue to remind me of Julia Roberts in
Ocean's Eleven
. I can see that they are there, but I am yet to discern exactly what they are doing or why. That said, I actually thought Pedro Obiang was our best player in the first half yesterday - take that in the same way as me saying "
Fifty Shades of Grey
" is the best book in the trilogy - and probably should be in the side on Sunday, meaning he will doubtless not be seen again until Christmas.
Shouldn't be playing against Southampton
The best functioning part of the team is the front three of Payet, Lanzini and Antonio who looked miles better than anyone else when they were introduced. Sadly, the men they replaced - Feghouli and Tore - were dreadful, and it remains to be seen how we would do in the long term if any of the former trio get a serious injury.
For our attackers, please see above. We're in trouble unless Andy Carroll and Diara Sakho come back fit and raring to go, but that seems about as likely as one of the Eggheads being arrested on suspicion of murder.
7. Oxford Blues
I'm concerned about Reece Oxford. If he doesn't play in games like this, then I don't really know when he will play at all. Presently, he looks like a central midfielder to me, based solely on the way that he was dismantled by Romelu Lukaku at Everton last year, although one would think he would grow into a defensive role as he matures physically.
With him refusing to sign a new deal, it seems odd that we haven't tried to get him some more game time but I can understand Bilic not wanting to hitch his wagon to the star of a 17 year old feeling his way into the game.
If he does go, it will be hard to see him rot away in the Manchester City development squad for three years before trying to pick up the pieces of his career at Sunderland. Trying to leave my biases aside for a moment, I can't really remember much good coming from young players leaving mid table Premier League teams to go to one of the bigger vultures and I hope he stays.
But if my career prospects were being blocked by mediocre players like Nordtveidt and Collins I suppose I might start to consider leaving too. An Oxit, as I suppose it would be called in the current climate of portmanteau slogans.
We started this game with no English players on the pitch. Any way you cut it, that's not a great enticement for homegrown youngsters to stick around.
8. Who Are They? English Football, That's Who
A word then, for Accrington Stanley, in a way that I hope isn't patronising. They were great tonight. Their team played excellently and with no little verve and skill. There were technical limitations, of course, but they persevered and deserved more than to have their hopes shattered by a 96th minute piece of Payet magic.
It is never hard to find things to hate about the modern game: Mourinho, Rooney, breakaway European leagues, the general concept of Chelsea, FIFA and of course, Sheffield United all loom large, but there is still a beating heart to the English game that lies in places like Accrington. To watch them come to a 60,000 seater stadium and go toe to toe with a Premiership team was heartwarming and a fantastic achievement by them, however anemic we may currently be. For that reason alone, I think they were the big winners of the night.
9. Radio Rental
So, speaking of Chelsea. How's that new radio system coming along Karren?
His last words were: "how hard can it be?"