1. Stop Me If You Think You've Heard This One Before
And so it goes on. I'm not even sure what to say anymore but I know I just want this joyless season to end. This year, in which we were supposed to kick on and show the world what an upwardly mobile club we have become, has instead been in its own way almost as nostalgic as last term.
Where once I thought we were building for the future, instead we now seem determined to keep repeating the past. This is our very own
Groundhog Day,
with no sign of a Cockney Andie MacDowell or a useful toaster to end the loop.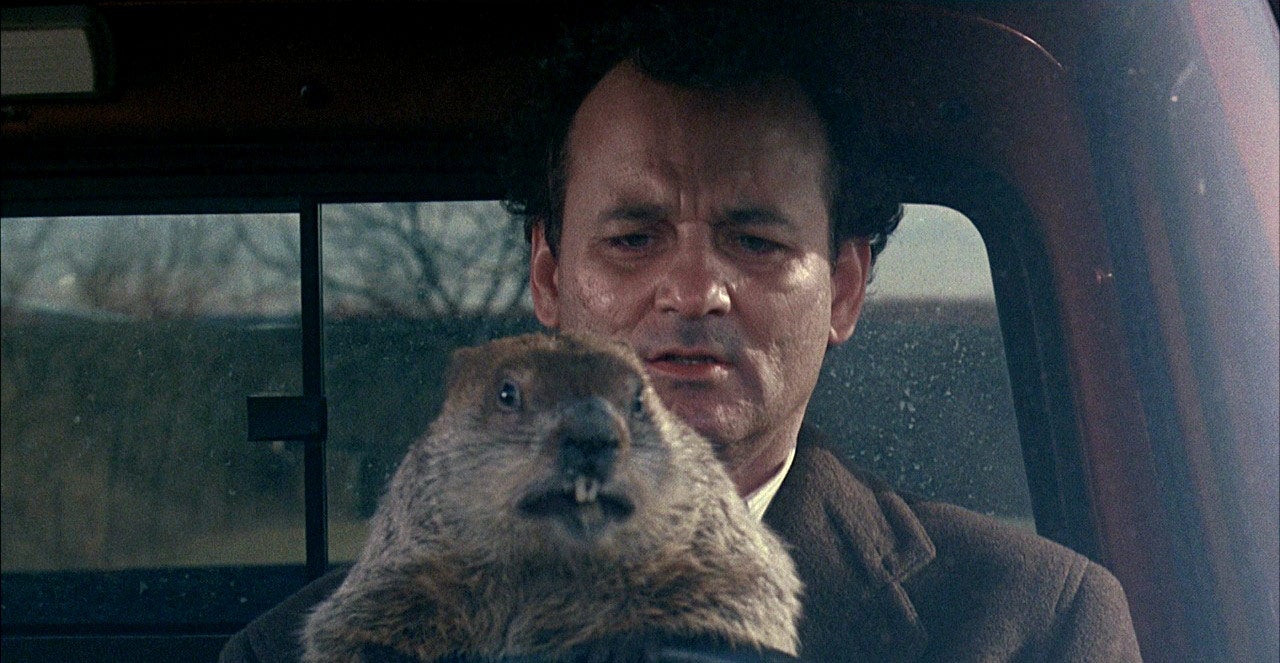 Wait, they're still not playing a right back?
This season has been a homage to years past. Terrible recruitment, players forced to play out of position, our best player demanding a move away and fans splintering from a Board of Directors who seem to be having an entirely different experience to the rest of us.
I don't particularly care that we lost to Bournemouth in this deadest of dead seasons, but I do care that some at the Club seem to have not even noticed we lost the game at all. David Gold thinks this risible shitshow was a 6/10 performance.


On my way home. Bournemouth 3 West Ham 2
We were well below par today 6/10 referee 7/10 West Ham away fans were at their best 10/10 dg

— David Gold (@davidgold) March 11, 2017
Slaven Bilic, meanwhile, thinks we
"are looking like a really good team"
and I am forced to turn to the fantasist David Sullivan for a
half sensible appraisal of affairs
. I hate being so negative about the club that I love, but I see no obvious way that West Ham will ever progress out of being an average mid table side under the current ownership. I'm well aware that we are just one season removed from one of the finest years in our history, but this term has made it painfully obvious that 2015/16 was an outlier.
We have now entered into a period of our history where nearly everything we are doing is running entirely contrary to the rest of the footballing world. We are buying older players while everyone else gets younger, buying from England as the rest of the league recruit players from a wider base than ever before and moving into a larger stadium and distancing our fans from the pitch as other clubs build steep Kops and employ accoustic engineers to ensure a fever pitch atmosphere.
I was a supporter of the move from Upton Park on the grounds that I saw no other way for us to compete with the richer, UEFA subsidised clubs in the Premier League. The loss of our home was a price worth paying to finally start going toe to toe with those clubs gifted a head start on us by virtue of history and the desire of the Premier League for a status quo.
But the harsh reality is this - more income, a bigger stadium and a higher profile are only useful in the hands of people who know what to do with them. And our Board demonstrably do not. This defeat - this insignificant but mind bending Groundhog Day defeat - highlighted every one of our flaws in all their awful glory. The incoherent transfer policy, the unbalanced selection, the mystifying tactics and the chaotic defending have killed us on the park and at the same time are all perfect metaphors for the Club's off the pitch approach.
Seb Stafford-Bloor of FourFourTwo put it better than me when he said
:
"West Ham are...a club with plenty of ambition, but who are either unsure of how to satiate it or incapable of doing so...In the absence of a more considered culture, they appear to have become overly reactionary, with organisational energies sapped by the need to firefight this never-shortening list of issues...Progressive clubs tend to radiate calm, logical order, whereas West Ham seem to exist in mild chaos.
There is always some kind of drama.
"
The bit about transfer values is off the mark, but the rest of that article is a dagger to the heart of the issue.
I know that plenty of you want me to be more upbeat about the Club's outlook, and I get that. I would love nothing more than to write glowingly of our future, and caustically about Spurs, but I also have to write what I see. Theoretically it's a rosy picture, but from where I sit it is being squandered with an unforgivable
insouciance
by a Board in dire need of hearing some hard home truths.
2. Heaven Knows I'm Miserable Now
So, what happened in this game? Well, firstly if you didn't see it and you think that maybe a last minute goal suggests we were unlucky then I should disabuse you of that notion. The only reason that we limped into the last five minutes of this game on level terms was due to the fact that Bournemouth's foreigners took penalties like traditional Englishmen should, and because Andre Ayew, of all people, is in unstoppable goal scoring form.
We began again with Cheikhou Kouyate in the right back slot, probably due to Russian hackers - I HAVE NO OTHER EXPLANATION - and Michail Antonio returned to the starting lineup in place of Robert Snodgrass. Manuel Lanzini played in the inside left channel and Sofiane Feghouli drifted around all over the place, causing havoc. Sadly this primarily manifested itself in our box and he conceded a cast iron penalty in the 9th minute as he tried stopping Charlie Daniels by jumping on his back.
However, Josh King put the resulting penalty wide, and just 48 seconds later we took the lead after Harry Arter conceded possession to Feghouli on the edge of the Bournemouth box, and the Algerian fed Antonio for a sharp turn and finish. It was an excellent goal, fashioned from nothing and further vindication that Antonio really is our pre-eminent attacking player these days.
While that goal should have calmed us, we were looking rocky every time Bournemouth got into our half. Reid was struggling with Benik Afobe and Daniels and Pugh were slaughtering us down our right side and an equaliser looked inevitable. It duly arrived on the half hour when King made amends for his earlier miss with a fine turn and finish, leaving Fonte for dust in the box.
Thereafter, referee Bobby Madley stepped up and, in keeping with the rather poor nature of most of his decisions, awarded the home side a second penalty after an embarrassing dive from Marc Pugh. When the referee blew the whistle I presumed it was to book Pugh for a dive so blatant that all Englishmen bearing the name "Pugh" should this week be stapled to their local church and pelted with out of date pavlovas, as we did in the olden days, in retribution.
Instead Madley bought it, and Bournemouth got precisely what they deserved when Afobe took a penalty so shit he'd be a dead cert for the next England squad if he hadn't already committed to the DR Congo.
Undeterred, the Cherries took the lead again three minutes after half time through a suspiciously offside looking King. Replays showed he was miles offside when the cross came into the box but under the current rules was correctly ruled onside, as Antonio wandered back with his customary lack of awareness to play him onside and allow him to poke the ball home to give them the lead. This marked the fifth consecutive game that we have conceded within twelve minutes of a half starting, which I'm sure isn't a problem at all.
That led to quite a lot of futile attacking as we looked to get back into the game, most of which looked hopeless until Obiang picked out the advanced Byram with a sumptuous pass inside the left back and the newly arrived substitute set up his fellow replacement Ayew for a straightforward tap in.
Instead of getting a draw we scarcely deserved, however, Ayew was then caught in possession and with Byram so far up the pitch he was almost in fucking Portsmouth, Jack Wilshere broke away and after his shot was saved King slammed home a deserved winner from the rebound despite us having two men on the line. It was that kind of day.
3. Is It Really So Strange?
If you take a look at this pass map from
@11tegen11
you don't really need much else to explain this defeat.
This is a side not using one side of the pitch to attack. When Bilic eventually loses his job, the pigheaded refusal to accept that he needs a proper right back will be a large part of the reason. Instead of allowing Byram a run of games to see what he has, he persists in playing Kouyate there and as this shows, it does us no good at all.
We ship so many goals down the right (no matter who plays there) that only a fool would refuse to accept it isn't our biggest weakness. Here Kouyate was rendered useless as an attacking force by the huge number of overloads that Bournemouth managed against him, preventing him advancing. These were largely as a result of Feghouli not tracking back, which is best highlighted by the fact that our centre half, Jose Fonte, had a wider average position than our right winger. Both right sided starters were eventually withdrawn, in a tacit admission that their selection in those roles was a mistake and you can bet your unusable West Ham e-credits that we'll see them both out there again on Saturday.
The good stuff came from Antonio who foraged admirably, often in advance of Carroll, scored a fine goal and could have had a second with some better luck. While it's easy to criticise Bilic on the back of performances as abject as this, it should not be forgotten that players like Antonio and Lanzini have flourished and improved markedly under his management. The latter remains a delight, and holding on to this pair in the summer will be a tough job if better clubs come calling.
Elsewhere, Carroll was horribly isolated and immobile and barely looks fit, whilst Lanzini was our key creative force despite being wasted out wide yet again for the first half. Whoever has taken over Aaron Cresswell's body got quite high up the pitch and did nothing when he got there. His best performance of the season remains the away game at Crystal Palace, a game where he returned from long term injury, was knackered after an hour and got sent off with fifteen minutes to go.
I appreciate you might be reading this on your morning commute, but I want you to know that nobody will judge you if you have a drink.
4. What Difference Does It Make?
I tweeted out during this game that for a side with one tactic for goalscoring - crosses to Andy Caroll - we sure are shit at crossing the ball. Some took umbrage to that, berating me as the two goals we scored showed that to be untrue. I guess that viewpoint is predicated on the belief that we scored our two goals as a result of a tactical plan. Given that the first came from an opposition error, and the second came from a high raiding right back - something Bilic cannot possibly consider a tactic as he never picks one - you'll have to count me out on that one. I see only one tactic for trying to score.
Since Carroll came back to fitness we have played Chelsea and Bournemouth, and attempted 54 crosses, completing 9. In that same two game span our opponents have successfully completed 8 from 28. This shouldn't surprise anyone who watched the games, as both were incredibly frustrating.
I don't dismiss it as a tactic given that both opponents seemed weak centrally but it can't be denied that it's failed dismally. At least part of this can be put down to Carroll lacking match fitness, as he's barely got near anything, but also due to the low quality of the service. Snodgrass was the main culprit against Chelsea and was duly dropped, but the rest of them have been just as bad. Here, as an example, Cresswell had a number of opportunities and managed nothing of any significance.
Well, we could have had a worse experience with crosses, I suppose
The great frustration is that our best creative player, Lanzini, keeps being isolated in wide positions to start games
despite this needing to be changed every time it's been tried
. I am but a lowly blogger, and I defer on every conceivable level to Slaven Bilic, but if he is forced to keep changing his own tactics then I cannot understand why he is persisting with them. It's not me telling him he's wrong - it's opposition managers.
When we beat both Middlesbrough and Southampton, it was noticeable that we didn't do so by battering them with crosses but by mixing our attack and actually attempting to go through the middle with our neat ball playing midfield.
With Leicester in town next week, and featuring two centre halves whose only strength is heading the ball, it would be nice to see some variety in our play.
5. This Night Has Opened My Eyes
Up until this weekend I had considered Bournemouth almost entirely unremarkable. Their team is peppered with players who could break into my house and be assured of anonymity even if I caught then scrawling their name on the wall, Homer Simpson style.
Simon Francis breaks into my house - "Who the devil are you?" I say
I'm sure this sounds insulting, and I don't mean it to be, but I can't tell most of the Bournemouth team apart. Francis, Cook, Daniels, Smith, Pugh. I have no idea who these men are.
And yet, Bournemouth had two very obvious tactics today. First, bomb down our right hand side, targeting Kouyate and generally tearing us apart while Bilic stuck his fingers in his ears and told himself everything was going to be alright.
The second was to simply surround the referee every time he made a decision. I've never seen anything quite like it, and I've seen us play Manchester United seven times in the last two seasons.
The ringleader was Dan Gosling, a player so unrelentingly mediocre that he is most famous for
something he did when nobody was watching
. It wouldn't have surprised me to have seen Madley in the dressing room afterward deciding what shower gel to use and for Gosling to have appeared and screamed into his face that he was wrong. It was all very Goodison, as the home crowd appealed for everything with a sense of injustice that might of been a bit more understandable if they hadn't been given two penalties, one of which being for a piece of street theatre.
Perhaps the injustice was fuelled by the fact Tyrone Mings was banned for this game having been banned for three games for stamping on Zlatan Ibrahimovic's head, and a further two for then having the temerity not to play for Manchester United while appealing the decision. Maybe it was because Noble brainlessly launched into a tackle after getting booked for dissent and was perhaps lucky to stay on the pitch.
I have no real comment here, they deserved to win, but mostly I thought they behaved like dickheads and I wasn't really expecting it.
6. Panic
If I had to think of one defining feature of Jose Fonte's West Ham career so far it would be of him rushing out to our right flank to make some last ditch tackle while our right back stared on with glassy eyed indifference from the halfway line.
I wasn't a fan of signing Fonte, largely because spending eight big ones on a 33 year old is the biggest waste of a few million since that Sheikh hired Robbie Williams expecting to hear a load of jokes from
"Good Morning, Vietnam" (*)
However, I struggle to blame Fonte for the state of our back four, which seems to be the position of West Ham Twitter after this game. Fonte looks alright to me, but like all of them is being exposed by our right flank and our terrifying susceptibility to quick counter attacks. For a team with two holding midfielders we get hit on the break with alarming regularity, and are being repeatedly cut open by losing the ball in places we simply can't afford to lose it.
At this stage, it seems fair to assume that Byram isn't showing Bilic anything in training to force his selection, and as such isn't going to make the position his own. I don't really know where that leaves us in terms of our right side, but I don't see anything that makes me think James Collins is the answer to the problem.
The reality is we have only five clean sheets in the league all season. I simply cannot wrap my head around how a team managed by a centre half can so look so clueless at the back. With 21 goals conceded in 10 games in 2017, we are currently parading the worst defence since
this guy argued he shouldn't get a driving ban as he needed his car to drive between his two wives
.
To quote Sean Connery spinning round in the fireplace in
Indiana Jones and The Last Crusade
my main observation of all these defensive changes is that, essentially, "
Our situation has not improved
".
He's got a point
(*) This might be an urban legend. Don't tell me if it is - I want it to be true and real life is a cruel mistress.
7. How Soon Is Now?
Another week, another Mark Noble substitution. In truth, this one was needed to prevent him from being sent off, as the Gosling led hordes were round Madley every time he even contemplated a tackle.
However, it was another game where the skipper had little impact and it's hard to know where he fits when Obiang and Lanzini are both playing so well. It seems odd, but perhaps in retrospect Noble was a bigger beneficiary of Payet than we realised. With opposition players inevitably drawn toward the Frenchman, maybe Noble just had more time to play, and produced his best ever season as a result.
Whatever the issue is, he seems to have lost the ability to meaningfully influence games at the moment and it's telling how often it is Obiang who is producing the key passes from our midfield. Indeed, of Noble's 23 completed passes, only 10 even went forward in this game. I love Noble, and I accept he brings more to the team than can be seen on a statistical breakdown, but it feels like a good time to give him a break and see if we can't get into some kind of form with Kouyate and Obiang in the middle.
8. You Just Haven't Earned It Yet, Baby
Andre Ayew appeared again to great effect of the bench. I still can't tell you with any degree of certainty what position Ayew is ever supposed to be playing but his Schrodinger like ability to be in multiple states certainly seems to be helpful in allowing him to be unmarked in front of empty nets.
Deadly when there is no goalkeeper
His goal owed most to Obiang's sublime through ball and Byram's awareness to cut it back to him, but one can't deny the usefulness of a striker who can take up actual honest-to-God goalscoring positions. Ayew certainly looks better for his stint at the AFCON, but he also lacks in work rate off the ball, and his concession of possession for the third goal was particularly weak and especially galling as it left Jack Wilshere free to break and create a goal - the only Bournemouth player on the pitch with the necessary guile to exploit such a situation.
Our forward situation is a mess right now, with Carroll unfit but playing, and Antonio our only reliable outlet. This leaves Ayew, Snodgrass and Feghouli fighting over one spot as Bilic seems determined to waste Lanzini for 45 minutes per game out wide.
Competition for places is a good thing, but my overwhelming feeling as I watch these guys play is that I still think we need another wide player in the summer. A left sided version of Antonio would be perfect if a little wishful. The biggest issue of all might actually be a question of formation - if we are to play 4-2-3-1 then how much defensive work is expected of the two wide men in the 3? As it stands right now, they are hardly doing anything and it shows in our goals conceded column.
One benefit of the 3-4-3 formation is that your front three can get away with less defensive work if your shape is correct and your wing backs have the legs to cover the miles needed. I'm not entirely convinced that we have the necessary personnel for it right now, but either way we have to find a way to be more defensively solid than we are at present. I'd also suggesting taking the unicycles, red wigs, giant shoes and cream pies off everyone before the next game.
9. Suffer Little Children
After this game, we have won just three games against teams who aren't currently in the bottom three. Those were the fortuitous home wins over Burnley and Bournemouth and a fine away win at Southampton. This might not bother you, as wins are wins and it matters not where the points come from so long as they come at all.
But to me this starkly highlights the regression of this season. Our performance against the best teams was always unsustainable, but I thought we would have held our own against the mid table types. As it is, we have become reliant upon beating the weakest teams in the division to prop us up into mid table.
It has made for a weird, unsatisfactory season with largely forgettable victories and some sadly memorable thumpings. We've also undergone wild swings in form whilst somehow producing a completely predictable set of results.
What this says about Bilic, I don't know. I am largely agnostic on him, to be honest. I suspect that working for our owners is a huge challenge, with the reputational damage we have suffered making it incredibly hard to attract good young players without paying way over the odds. As I said last week, I also don't think they have the wherewithal to replace him with anyone better so I'm sticking with the devil I know for now.
As it is, I gloated along with everyone else last season about the obvious progression from Allardyce and believed that campaign was the evidence we'd finally been waiting for that West Ham were going forward at last. But consider this team:
Adrian
Tomkins
Cresswell
Ogbonna
Reid
Oxford
Kouyate
Noble
Payet
Zarate
Sakho
(Nolan, Maiga, Jarvis)
This is the group that won 2-0 at Arsenal on the opening day of last season, and completely outplayed them. In the intervening eighteen months six of those players have left the club including the subs, two have lost form completely (Noble, Cresswell), two have been dropped (Adrian, Oxford), two are injured (Sakho, Ogbonna) and one is being played out of position (Kouyate) leaving just Reid as any sort of constant.
I thought that team was going to be the bedrock of a sustained period of decency, but instead it was just a fleeting "
what if
" and a tantalising glimpse into a future that would never come. Since then we have spent £38m buying Snodgrass, Fonte and Ayew and two of them were on the bench on Saturday.
I understand that last year was over performance and I get that for all my moaning there is every chance we may finish in the top ten this season, but I am frustrated by the failure to grasp the mettle. I keep saying it, but Upton Park was an acceptable price to pay (for me) if it turned us into Everton. If it turned us into West Brom then it was the worst deal since Lando Calrissian started negotiating with Darth Vader.
10. Accept Yourself
On some level, we are all Robert Snodgrass here.