1. Al Get Over It

Every now and again, you don't need a caption
2. Don't Start
I happen to know that the readers of this blog are discerning, cultural titans who generally don't lower themselves to certain topics. But no doubt you will remember the Irish musical phenomenon Boyzone, who swept through the charts in the late 90's whilst producing the kind of music that would adorn elevators and 99p stores for years to come.
What you may not know, is that their start in the music industry came when their manager brilliantly decided to book them to appear on Irish chat show "
The Late, Late Show
" despite having no actual music to perform.
Undeterred, they stopped off on the way to borrow their outfits from the travelling male stripper troupe "
Robin Hood vs West Side Story
" and proceeded to do this:
I realise that some of you may be reading this on a mobile device on a train or in an office, and I can assure you that whilst sound would certainly enhance the viewing experience - it is absolutely not required.
Anyway, going into this game at Palace - we had gotten off to a worst start than Boyzone.
3. The Win Is The Thing
If you were watching a weather satellite on Saturday evening you probably would have seen something resembling a mushroom cloud over East London, as thousands of Hammers fans let out huge sighs of relief simultaneously at about 7.30pm.
(You might also have seen a slow moving, unidentified flying object - but we'll get to Benteke's penalty later, because it was
brilliant
).
The value of this win cannot be understated for all sorts of reasons. It rescued us from our worst start since John Lyall was in charge, and finally meant that we had accrued more points than Avram Grant had done by the same stage during the ill fated 10/11 relegation season. With a murderers row of fixtures coming up in November, and a spate of injuries due soon, we desperately needed to get some points on the board.
If you read The H List
Round Table
during the week, then you'll have seen that there were some differing opinions on how long Bilic will last if things don't improve. My own take is that Gold and Sullivan will be reluctant to get rid of him without things getting quite a bit worse yet. After this weekends results we are just a point behind Leicester, for example, who nobody thinks are in crisis - although it should be pointed out that we have had a much easier set of fixtures than them so far.
And let it not be forgotten - Sunderland and Hull exist. Whilst this is extremely bad news for anyone attempting to argue that the Premier League is the best in the world, it is very good news for East London teams who have messed up their preseason.
4. The Hold Steady
So whilst Sullivan and Gold have demonstrated far too much patience in the past (Hi Avram!), I suspect they will ride out the storm with Bilic. Part of this seems to be a desire to be seen as "proper" football owners. Read any below the line comment about West Ham these days (and plenty of boardroom comments from days gone by) and it will be bound to make some disparaging comment about the "porn barons" and their "Stadio el Dildo".
Now, perhaps it's my own fault for reading the comments about anything written online, but this always amuses me as I suspect a venn diagram of those who write comments on the internet and those who use Sullivan's porn probably looks something like this:
Anyway, I don't think Bilic gets fired anytime soon.
5. Formation Flying
So, to the game! A win! I think, I can't entirely be sure as we haven't had one since those heady days when the Pound was worth more than the Euro.
There were a number of significant factors in this victory. This started when Bilic looked deep into his magic 8 ball, and deployed a 3-4-2-1 formation which seemed designed to achieve a number of points.
Firstly, Aaron Cresswell returned and was excellent until he was sent off for presumably shooting Martin Atkinson's dog at some point in the past. With doubts about his ability to last the game, the three at the back system allowed some extra cover in behind Cresswell as he rampaged forward.
It also allowed Bilic to get all of Kouyate, Noble and Obiang into the side which appears to be something he is keen to do. Kouyate therefore dropped back, and did excellently in helping to subdue Benteke.
And lastly by using two holding midfielders, neither Lanzini or Payet were troubled by any defensive duties. As such, for the first 40 minutes both roamed freely about the place dictating the game and generally leading Palace a merry dance.
This led to our excellent goal, which came after a lovely interchange between Payet and Cresswell, and a fizzing cross that Lanzini slotted home excellently. Seriously, watch Payet's foot movement before he plays Cresswell in - I haven't seen a side step so gorgeous since that Boyzone video.
Our passing had a purpose for the first 40 minutes that has been sorely lacking all season. Our midfield got close to Zaza, and tactically we outmanoeuvred Palace, loathe as Pardew was to admit it. For the first time all season it felt like our manager was doing things that were giving us the best chance to win the game rather than just randomly throwing names in to a hat and then putting the highest scorer in the league at right back, I mean, he still technically did that but we won so I don't really know what to say about that anymore.
6. Paying The Penalty
That good start didn't continue, however, beyond the 43rd minute when Palace were awarded a penalty. This initially came about when Michail Antonio was caught the wrong side of Wilfried Zaha in a carbon copy of the incident at Chelsea last year. Martin Atkinson chose to ignore their coming together, but did punish Angelo Ogbonna who went to clear the loose ball and in doing so caught Benteke.
I thought it was a bit soft, but it didn't matter as the Belgian picked himself up and then proceeded to take a penalty that channelled Simone Zaza's effort in the summer. He took the kind of run up that you'd normally associate with a man wearing trainers on an ice rink and then casually placed it high and wide and somewhere into the stratosphere over Croydon.
"That was shit"
We then had a bit of penalty turmoil ourselves as Cresswell should have been awarded one when he was fouled by Cabaye in the area. Referee Martin Atkinson, whose view may have been blocked by Antonio, decided not to award a foul and instead booked the left back for diving. 30 seconds later he then penalised him again, this time for a non-existent foul on Zaha and off he trudged. It was a shocking decision on three fronts. It denied us a chance to go 2-0 up, made us play for 15 minutes with ten men and means we have to play Sunderland next week without Cresswell.
The latter point may end up being moot - Sunderland aren't really a football team, they're a group of well meaning performance artists - but it will at least mean we can't play this same formation again. We simply don't have two players mobile enough to operate as wing backs.
7. Simple Simone
Perhaps inspired by Benteke's homage to his penalty taking efforts, Simone Zaza ran himself into the ground. And that was admirable and helpful to the cause. But while his pressing and tracking back were excellent, he is beginning to resemble a Swiss Army knife - useful for all sorts of ancillary things but not actually any good at the things you'd ideally want a knife to do.
After half time, Palace rearranged tactically and we lost a lot of our attacking threat. By the time Zaza left the field, replaced by Calleri, he hadn't actually fashioned a decent chance.
That said, Payet still had the best chance of the half, and we ended up seeing out the game with the sort of comfort one would normally associate with Alan Pardew in a Spanish nightclub.
8. Transfer Blues (Slight Return)
One thing that jumped out about this game was that we started with only one summer signing - Zaza. I've mentioned this before, but our signings have largely been woeful and it probably wasn't a coincidence that our best performance of the season came with last years team.
There is a fascinating interview that all Hammers fans should listen to at
Analytics FC
with Rory Campbell, who is West Ham's Head of Technical Analysis. It is wide ranging and talks a lot about analysis in football, and how it is applied at West Ham. We have a curious structure, with Bilic alongside Campbell, Tony Henry - our Head of Recruitment - and David Sullivan in there somewhere too.
You can almost tell who is responsible for each buy. Tore is clearly a Bilic player, Calleri is a prototypical Sullivan buy given his propensity for buying promising, but ultimately shit, South American strikers. There are also
links
between West Ham and Deportivo Maldonado through former board member Graham Shear, which seems like a Sullivan staple.
Elsewhere, Nordtveidt and Feghouli look like picks from the analytics department, and Fernandes and Fletcher look like "potential" signings from the scouting department. Others, like Zaza and Arbeloa just look like confused, desperation buys.
They actually remind me of a story from when I was a kid. My best mate was a huge basketball fan, and was slightly obsessed with the US Olympic team, otherwise known as the "
Dream Team
". Back in those days TV coverage wasn't what it is now, so one Christmas he asked for the video chronicling the Dream Team's gold medal success at the Barcelona Olympics. This request was passed on to his nan, who dutifully went to Our Price and wrapped this up for his big Christmas Day surprise:
Not Michael Jordan and Magic Johnson
So my only request is that if we decide to get a new striker for Christmas, we don't let my mate's nan do the shopping. She already got Simone Zaza and Alexandre Lacazette mixed up.
9. A Moment On The Lips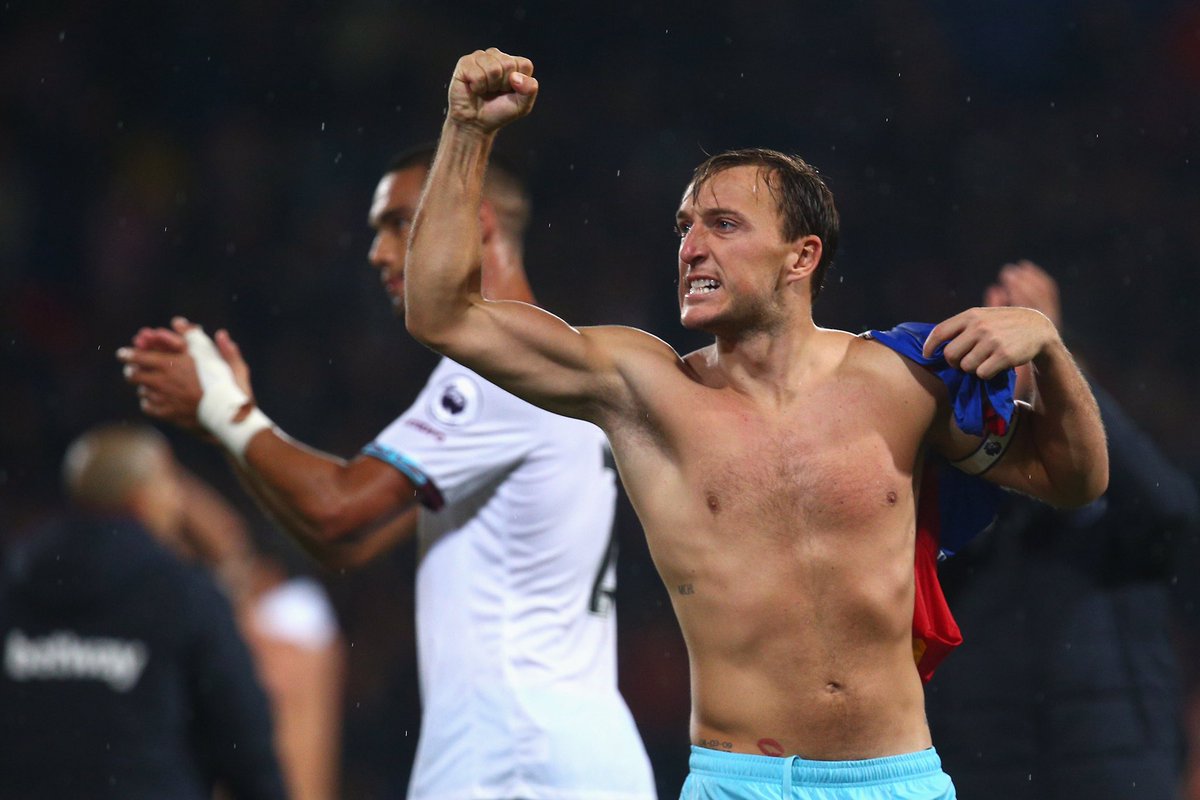 Mark Noble has had the same haircut since he was 21 and will have it forever more, despite the fact that it won't actually be age appropriate for him until he is 75.
Imagine my surprise then, we he whipped off his shirt on Saturday to reveal a set of lips tattooed on his lower abdomen. I have nothing to add here, except that I now feel like there are probably hidden depths to Mark Noble that I had never previously detected.
10. It's Al About The Team
This is genuinely a picture of Alan Pardew celebrating a goal with a colleague