1. Shelter From The Storm
Welcome to WestHamWorld - it's mad here
Maybe you've been following the rather unsettling reboot of Westworld. It's hard to discern what's real from the fabricated, in a world where fantasies seem to intertwine with reality in the Wild West. And thus you have a reasonable description of tonight's events at the London Stadium, albeit with slightly less Thandie Newton, much to my dismay.
2. Idiot Wind
My immediate thought upon getting home and reading the various reports flying in is that I have no idea what to make of any of it. Some seem to think that tonight was a nothing little dust up which wouldn't have been out of place at the average East End wedding, whilst others seem to feel it was the worst thing seen in a stadium since Rod Stewart sang at the Commonwealth Games opening ceremony and wasn't sure what key to sing "Maggie May" in, so just decided to hit all of them in the first verse.
On a night when we should be able to celebrate our first proper, genuine moment at the London Stadium, we instead have to face facts. There are some right fucking idiots who support West Ham.
Sure, Chelsea have plenty as well and they were on display tonight but we really do have more than our fair share too. In the Trevor Brooking Lower Stand there is a wide tarpaulin that separates the fans and a beefed up row of stewards to keep the peace. With West Ham leading 2-0 in the closing minutes, the fans in that neighbourhood therefore took it upon themselves to stage the World Posturing Championships and then started lobbing whatever they could find at each other. This started with Gustave Flaubert quotes, no doubt, but then progressed on to water bottles, toilet rolls and the odd seat.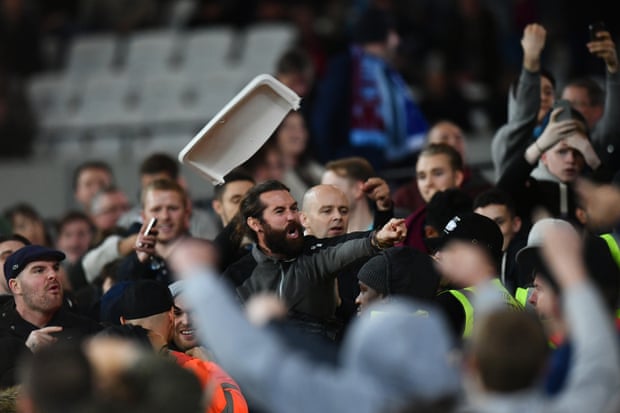 Mensa - West Ham Branch
Jacob Steinberg of The Guardian
wrote
a good piece on tonight's events, and I defer to his view which was a fair bit closer than mine. I was up the other end, and whilst it mostly looked like the wet dream of a few hundred amoeba who spent their youth imagining Danny Dyer films to be social commentary, it also can't be denied that this is now
the
story of the evening. Although given that the media spent all week telling us what was going to happen, I guess it can't be too surprising that it has been decided that "this" - whatever that is - did indeed happen.
It also can't be denied that the biggest fuckwit of the night - and let me assure you that the competition for this accolade was fierce - was the Chelsea organism who pushed past a steward and bounced over the tarpaulin towards the West Ham end before getting too close and turning round and retreating back to the away fans. How you view this will probably depend largely on the shade of blue you wear on your sleeve.
So instead of headlines about the cracking atmosphere or the nice little unbeaten run we are now on, it's all about the trouble inside the stadium once again.
And just for the record - none of this is the fault of stewards. I keep hearing this, and I keep failing to understand how or why stewards are responsible for grown men - and it is always men - throwing things or attempting to fight other people. Most of tonight's problems inside the ground would have been solved by having a Police presence, but that doesn't make any of it the fault of stewards.
3. Desolation Row
I've also got to point out that the area where all this trouble started is the place where you generally get put if you obtain tickets in the ballot. I've been in there with my 8 year old daughter and my 80 year old uncle. And it's right next to the away fans.
On Saturday, I shit you not, the Club put the mascots in there. In full kit, and waving foam fingers and eating hot dogs. Right next to the away fans.
I'm beginning to wonder if the seating arrangements at our stadium aren't part of some bizarre re-imagined Stanford Prison Experiment.
4. Tangled Up In Blue
So while the intellectual heavyweights were debating each other across Karren's No Man's Land, somewhere below them a game broke out. And what a game it was.
Here, finally, at last was a West Ham we could believe in. The stadium rocked and rolled as we went toe to toe with Chelsea and eventually dropped them shortly after half time.
In truth, the visitors probably started brighter with Willian, Chalobah and Kante moving the ball adroitly between the lines and threatening repeatedly. We therefore did the only sensible thing and scored.
Noble and Lanzini worked space for a cross from the left and Cheikou Kouyate thumped in a header from miles out. In fact, there were people in the Upper Tier of the Trevor Brooking Stand watching through opera glasses who were closer to the goal than Kouyate but it didn't stop him. The ball flew past a startled Begovic and from that point on we assumed control and didn't relinquish it.
What was particularly good tonight was that it was obvious what Bilic was trying to do. The wing backs gave athleticism and width - [insert standard comment about how valuable Aaron Cresswell is to us] - and Noble and Obiang did yeoman work in the middle to free up Payet and Lanzini, all while a resurgent Winston Reid tidied up everything that came anywhere near him.
5. Hurricane
The star man, however, was Michail Antonio, who terrorised Chelsea's back 3 relentlessly. Whilst David Luiz might be a Sky Sports whipping boy, he was actually the most capable of their defenders tonight. John Terry looked every one of his 36 years and Gary Cahill looked to have all the pace and organisation of a Brexit.
Antonio's very presence in this role just serves to highlight once again what a dismal summer we had in the transfer market, but he performed excellently here and frequently broke free of his markers to create chances for his support runners. I don't really think it's a sustainable idea to have him play this role long term, but for tonight it worked brilliantly.
6. I Believe In You
Step forward Edmilson Fernandes, who has now played on either side of this system and excelled on both occasions. Here tonight he was even more impressive than he was against Sunderland, given that he was on his natural right side, and he roamed forward impressively whilst doing enough defensively to keep Oscar quiet. Truthfully that wasn't difficult as Chelsea could have placed an actual Oscar statue out there and it would have offered more than the Brazilian.
Ironically, having not used his left foot at all on Saturday, here he cut inside just after the break and rifled in a second with his swinger, and thereafter Chelsea gave up.
And thus, having played impressively well, the youngster completed his initiation into West Ham lore by getting injured. He's one of us now folks.
"A young West Ham player does well. Now he must receive medical treatment" - Magna Carta, 1215
7. You're Gonna Make Me Lonesome When You Go
Misunderstood Chelsea uber-wanker, Diego Costa came on with half an hour to go here and proceeded to mix the sublime with the outright ludicrous. One turn and run at Reid was brilliantly done, and drew the New Zealander into getting booked.
And then...he fell down. Again, and again and again. I had to check he wasn't dressed up as a Pound Coin and hadn't come along in fancy dress as sterling for Halloween. Eden Hazard came on and joined in, perhaps dressed up as Britain's credit rating although to be fair, he was also absolutely clattered by Noble within about 12 seconds of coming on.
That earned him a yellow card. The same as this. Uber-wanker.
Never a sending off
8. Boots Of Spanish Leather
When Pedro Obiang was introduced to the side, I expected that he might deign himself to do some of the things that appeared to be beyond Noble and Kouyate, like tackling and passing to other West Ham players.
He did that, and immediately solidified our midfield to the point that Bilic felt able to drop Kouyate back into defence rather than allowing him to continue charging around everywhere like a racehorse bolting out of the gate having been prodded with an electric toothbrush.
What I didn't expect was his great range of passing and ball striking ability. He hit one screamer of a shot that Begovic did well to save, and his willingness to spread the play was a big factor in allowing our wing backs to get high up the pitch. At this point it seems to me he should clearly be inked into the starting line up on a permanent basis.
He also tweeted this tonight, which makes about as much sense as anything ever said by Donald Trump, which is to say it's impenetrable but I love him anyway:
"We are a team that struggles to prove to herself that she is able to reach by any purpose important we want. #coyi#" - @Obiang14
I mean, that's fucking gibberish but it's in his second language and the man never loses a tackle so Pedro, godspeed with your tweeting my friend - you still make more sense than most of the Clubs official statements.
9. Bring It On Home
Ballon D'Or nominee Dimitri Payet played for West Ham tonight and did his normal thing of generally looking a cut above everybody else whilst playing for West Ham and being a Ballon D'Or nominee. Not that there is anything unusual about that.
10. Oxford Town
I think we might need to prepare ourselves for bad news about Reece Oxford. I follow him on Twitter - which isn't a start to a sentence that inspires confidence, I know - and he has been saying some odd stuff recently. It's mostly said in text speak and without context, and he's a 17 year old kid so can generally be assumed to be talking bollocks, and yet it still doesn't feel great.
He's barely had much of an opportunity since his stellar turn at Arsenal last year and yet also hasn't gone out on loan. Clearly he feels he should be playing more, and when you watch a team defy all the known laws of the Universe and concede 4 to West Brom, that isn't an unreasonable position. He is stalling on signing a new deal and there are lots of rumours that Man City are circling.
My hope, my only hope really, is that he looks at Jack Rodwell and sees what a spell in the City reserves can do for a young career. It's Halloween and therefore a good time to think about what scares you. And this should scare you Reece.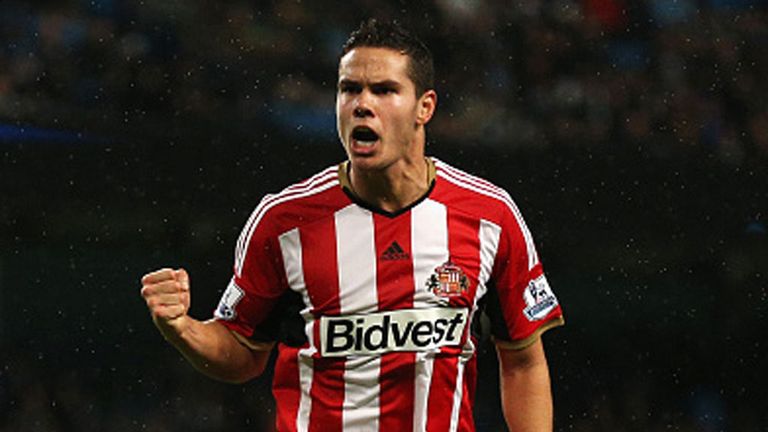 Sunderland - where good footballers go to die