1. Ordinary Thunderstorms
A game of football broke out tonight amidst all the terrible decision making, but I'm sure you'll forgive me if I jump straight to the nights big talking point - the red card for Sofiane Feghouli.
You need to be careful about calling someone a cheat. It's a strong word, that carries lots of connotations and therefore should be used judiciously.
With that said, I don't think that Mike Dean cheated tonight. Firstly, for someone to cheat they have to benefit from the action, which a referee clearly doesn't. We might like to think that referees want bigger teams to win, largely because so much other stuff is skewed in their favour, but they don't. It seems logical to me that referees just want to get through the game and get home without causing too much damage, having got the big decisions right.
When that doesn't happen, then we get nights like these.
I can't defend Mike Dean, as such, for his decisions tonight were almost unforgivably bad, but I suppose we have to accept that human beings have human failings and that they make mistakes. Because of that, wanting referees punished for their mistakes doesn't make too much sense to me. I'd rather focus on those who stand in the way of giving them assistance. We should by now have a system that allows managers to challenge one decision per game in the same way that NFL coaches can, and that would have seen this red card rescinded before Feghouli was even off the pitch, and thus preserved the challenge for the second goal when three Man Utd players were offside.
But somehow this can't happen, because there are still those who put forth the idea that bad decisions are somehow good because they generate pub discussion. This is such utter horseshit that it barely warrants a response. And this would still be horseshit even if Mike Dean had sent off Phil Jones and and not Feghouli. Football referees don't exist to generate conversation or column inches. They are there to apply the rules of the game, fairly and equally to both teams, and not send off players when they shouldn't.
It has also been said that FIFA don't want to introduce replays or challenges as they want to maintain the professional game as closely to the amateur version as possible. This is also horseshit, as anyone who has ever played on a Sunday morning will know. I have played games without linesmen, substitutes, nets, and one one memorable occasion - a crossbar. No amateur footballer in the world would care about replay, any more than they have cared about goal line technology.
Instead of vilifying referees for their errors, we should be crucifying those in authority who refuse to help eradicate them.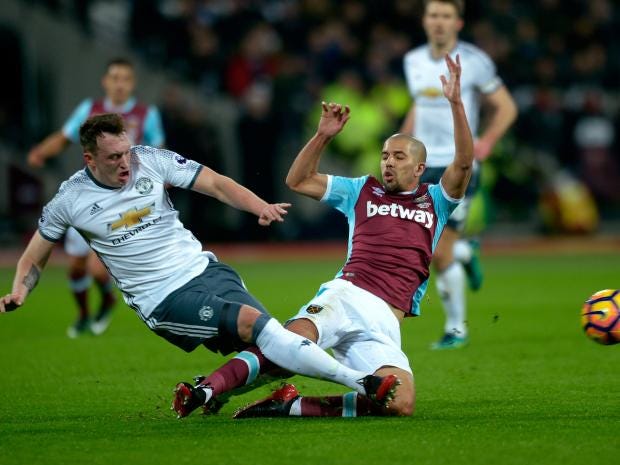 A red card challenge, clearly
2. On The Yankee Station
So having said that about Mike Dean, I can say without fear of contradiction that I consider Phil Jones a cheat.
The sequence of events that surrounded Feghouli's red card was remarkable from start to finish. The Algerian took a heavy touch and then foolishly dived in to try and recover the ball, as Jones flew into him from the side. Having watched it several times over it's not clear to me where Feghouli actually touches Jones to cause him such agony, but you can watch for yourself here:
— West Ham News (@WHUFC_News) January 2, 2017
What is clear is the way Jones brings his trailing leg through and catches Feghouli. I'm not going to lie and say that I had a clear view at the time, but I can honestly say that I didn't know who had fouled who, or even if a foul had been committed. My seat was in the upper tier and therefore at least four nautical miles from the action, but whilst I winced at the tackle my main fear was that Man Utd would play it as perfectly as they did. And boy did they play it perfectly.
As Jones began his sequence of rolls away from the impact, United players in turn started streaming toward the referee from all directions. The likes of Rojo, Lingard, Darmian and Herrera might be average footballers, but they are top quality Mourinhoans, and they quickly and cynically demanded a red card for Feghouli even as Jones began his 17th roll of his routine, quietly rolled all the way out of the stadium and bumped up against the Velodrome.
Without the context of this game, I might actually have admired the ruthless cynicism of their actions. It was a perfectly constructed performance - by the time Dean drew breath he had six players around him, Jones had a make up artist applying blood splatter to his knee, Hugh Laurie was standing with a sardonic look saying "It can't be saved!", Wayne Rooney was demanding vengeance even though he wasn't playing, and a Second Unit were setting up a lighting rig behind Jones so they could better capture his agony. Only Zlatan stayed out of it, hands on hips, like the Norse God of ennui, perhaps
recognising the same tactics that Mourinho employed to get him sent off for PSG against Chelsea in 2015.
It was masterful and planned to perfection and helped convince Mike Dean that the fifty-fifty challenge he had just witnessed was somehow a red card offence. No referee has ever gone hungry by choosing to side with a big team over a small team, and thus Dean took the easy way out, and after a brief period of blowback tomorrow, nobody will ever remember it. Had he given it the other way, he would have had to contend with a week of Mourinho tantrums and a media storm lasting for weeks. It's easy to criticise, but what would you choose?
Of course, I wish referees were stronger and didn't just favour big teams for an easy life, but at the same time I wish the Premier League acknowledged this was a problem and tried to do something to stop it. After all, I'm not sure that games being ruined after 15 minutes by shitty refereeing decisions is all that useful in selling those all important global TV rights.
I'd like to say it's also not fair to those paying fans in the stadium, but I'm an idealist, not a fantasist and I know no one gives a shit about us.
3. An Ice Cream War
It's hard to know what to make of a game like this, ruined as it was by the red card. Having played just 48 hours earlier and with a useless squad, Bilic made just three changes whilst Mourinho was able to make five. In truth, the opening fifteen minutes were uneventful, although we just shaded it and there was some promise in the lively looking Lanzini and Feghouli, two of the new boys.
But once we were reduced to ten men it became an exercise in attack versus defence, as Antonio was withdrawn to the wing from his central striking role and asked to do the work of two men. Elsewhere Kouyate put in a lungbusting performance all over the place, whilst Obiang reminded us all what a steadying influence he is in the middle of the park.
What we really needed was for the game to spark into life and for a few tackles to start flying in because this would have given Dean the opportunity to even things up. Sadly, Man Utd were far too cute for that and barely made a tackle for the rest of the game. Instead they harried and pressed us until we coughed up possession, and built from there. It felt like the consequence of this approach was they didn't seem to recover the ball in dangerous positions that often, which forced them into slow, laborious, often boring passages of play with little direction. I have no evidence of that though (the theory about them recovering the ball - I have lots of evidence they were boring. I nearly feel asleep at the end of the first half).
For a while the ship steadied, and Man Utd seemed content to pass it aimlessly from side to side with no penetration. Their best chance came when a clearly offside Valencia was somehow denied by Randolph from 5 yards out and Jesse Lingard hit the post from the rebound, possibly as he was in the process of uploading a video to Snapchat at the time.
At half time we could dare to dream, such was the insipid nature of the visitors play, and sure enough Antonio had two excellent second half chances to give us the lead. The second in particular, saw him run clean through at De Gea and shoot straight at him when a yard either side would have been enough. He'd have probably done better if he dropped to all fours and tried to head it in.
Shortly thereafter, Marcus Rashford ran past Havard Nordtveit like he was a slow moving defensive midfielder and not a Premier League right back, and his cross was expertly finished by Juan Mata. After that, it was twenty minutes of pointlessness until Zlatan Ibrahimovic slammed in a second to close the door on any lingering dreams of a fightback. The Swede was yards offside at the time, as were two of his teammates, but you can't be stopping the game for little things like that or we'd never get any action at all. Or something. I don't really know any more.
4. A Good Man In Africa
We're really going to miss Cheikhou Kouyate when he goes. His athleticism and general willingness to run himself into the ground has been sorely missed from our midfield this season, and has been perhaps the great unheralded reason why Noble and Payet have fallen away as they have. His ability to gather the ball and carry it long distances is gold dust, and it's been even more noticeable that we don't have the players to do this on our newer, bigger pitch.
Today he had a general roaming role, and was eventually withdrawn, exhausted, towards the end. Kouyate is best deployed in this fashion as his natural ability to cover the ground makes him a threat all over the pitch. It's been a problem for us to get high quality possession high up the field this year, and his deployment as a defender is part of the reason. Without him foraging and harrying high up the pitch, the likes of Lanzini and Payet have been receiving the ball either too deep or with their backs to goal leading to the general low quality of our attacking opportunities. Also the fact that we've played half a season without a centre forward hasn't helped, but perhaps that's a story for another time.
No offence to any of my doubtless thousands of Senegalese readers but I hope he comes back quickly from the AFCON. We need him.
I can nearly see the front row!
5. Restless
Writ large across this defeat were the failings of our summer transfer dealings once more. I know I won't win any new readers by pointing this out, but without a proper centre forward or right back we were brutally exposed once again here tonight.
To pick up on a point that I
started in my Leicester article
from
this fucking morning
(I'm with Jurgen Klopp on this - won't someone think of the bloggers!), it is wholly unsatisfying that the errors of this summer haven't led to any changes in process for this window.
Ask yourself this - if David Sullivan were to apply to any other Premier League club to be their Director of Football, would he get the job?
No is the answer, in case you're still scratching your head. Because other Premier League clubs can see his past record just as easily as we can.
Yet, because he owns the Club he will continue in that role with no apparent accountability for past failures. In what universe is this a good idea? In what other business would failure of this nature not even warrant the slightest hint of self examination?
And so as Rashford ghosted past Nordtveit, and Carroll lumbered on for twenty minutes because he can't play twice in three days, I couldn't help but wonder if somewhere in the Director's Box there was a Russian hat being bowed ever so slightly in shame. I doubt it, because self awareness doesn't seem a particularly strong Sullivan family trait, but fuck me it would be nice to imagine.
Rich Sprent gets into this in more detail at KUMB
, but the reality is that every window that passes with this shambolic recruitment structure is another lost opportunity, and more ground lost to our competitors. It really is that serious. Be very afraid of that Payet £30m bid from Marseille - it might sound great, but consider who will be spending it and try and recall if you think Rigobert Song was a great replacement for Rio Ferdinand.
6. Any Human Heart
What is especially galling about this game is that buried underneath the miles of pointless running and the simmering resentment was a half decent performance. Manuel Lanzini was excellent in his midfield role, and it was no surprise that it was his perfectly weighted pass that released Antonio for the chance that should have given us the lead.
I especially enjoyed his late rasping first half effort that drew a scrambling save from De Gea as it occurred whilst Ander Herrera was injured in the centre circle having lost the ball. And I mean, actually, properly injured which in itself is a rarity.
See, if you play computer games you can often do tricks to "unlock" a certain signature skill for particular players. Payet takes improbable free kicks, Giroud does a scorpion kick, John Stones gives it away in a dangerous area and Ander Herrera commits a niggly foul and then feigns injury. It's his superpower, as though there is some football factory in Spain that crammed every crappy character trait of modern footballers into one snivelling midfielder, and then sold him on to Manchester United and Mourinho – his natural home. Anyway, it's a shame Lanzini's effort was saved as I'd have enjoyed watching Herrera sprint up to Dean demanding he acknowledge that this time he actually was injured.
Behind the diminutive Argentine, Pedro Obiang continued his excellent form. Playing up against an ultra-languid Pogba, with Carrick alongside him and a man down is no easy task but he stuck to it gamely, and the time would surely have now come for these two to be paired in midfield were it not for the AFCON robbing us of Ayew and Kouyate at the very minute we seem to have stumbled arse backwards into a formation that might have suited them. Expect Noble to return on Friday against Man City, therefore, and expect some of those old possession problems to return too.
I love Noble, for his loyalty, his dedication, his skills, his never changing haircut and his penalties, and I still see him as a valuable player, but right now a Lanzini-Obiang-Kouyate triangle in midfield would look very appealing.
7. The Blue Afternoon
What on earth are we going to do about Dimitri Payet? Maybe this run of games was just a bit too much too quickly for a player whose pre-season basically consisted of two laps of the training pitch and some Lucozade Sport.
It's an understated point, but Payet basically plays every minute of every game for us (except for those last five minutes at Spurs, but let us never speak of that again), and that must take a physical toll on a player like him who doesn't appear, at least, to take his conditioning that seriously.
Maybe I'm doing him a disservice, but Payet hasn't looked as sharp this year as he did last, and by the end of this game he was walking around with his hands on his hips like Robert Duvall on that beach in
Apocalypse Now
. I'd personally give him a rest on Friday night, as the last thing he needs now is another energy sapping defeat at our soul sapping stadium. If nothing else, none of this is helping his transfer value for the now inevitable summer departure.
Are you going to do any defending, Dimitri?
I'm sure there are plenty who will be exasperated at me giving up on our season already, but I can't see any way we will beat Man City with or without Payet, and if he carries on his current form he won't help much anyway. Stick him on the bench, give him a rest and let Feghouli have the game he was robbed of here.
8. Solo
In spite of the result here, there has been a pleasing tightening up of our back four in the last month. Most of this has been led by Winston Reid, but one can't deny that Darren Randolph has played his part. I felt he was fortunate to gain his place to begin with but since then he's been pretty decent and he pulled of a couple of excellent saves here, as well as somehow letting a Rashford drive through his hands on to the post and back out into his midriff. Such are the slings and arrows of outrageous fortune, I suppose.
It is a surprise then, to hear us being constantly linked with a big money move for a keeper in the summer, such as Hart or Begovic. I say that because although I agree that teams should always look to upgrade wherever possible, when you are restrained by your budget in the way we are it makes sense to me to look for the biggest marginal gains from any such upgrade. I have no evidence to support this, but it always seems to me that goalkeeper is a place where you would need a very subpar incumbent in order to gain much obvious advantage from a new keeper. That is simply because a brilliant goalkeeper doesn't seem to save that much more than even a league average performer.
Put another way, had De Gea and Adrian swapped teams last year, would it have made much difference? I doubt it very much, and I think De Gea is the best in the world at his position.
That might seem daft, but remember that Petr Cech was apparently going to be worth 10 points a season to Arsenal, and then he joined and they conceded exactly the same number of goals, gained four fewer points and only finished up in second because Spurs went full Spurs at the end of last year.
I can't say I would ever turn down the opportunity to have Joe Hart play for us, but even if he did it seems obvious to me that he would still concede plenty of goals, simply because we allow teams so many efforts on target. So, yes, upgrades are fine, but the benefit we would get from a proper right back, a fit striker and a Director of Football would far far outweigh anything we'd get from a new keeper.
9. Waiting For Sunrise
Why is the PA system at our stadium so loud? I thought I had tinnitus for most of the first half and my ears only stopped bleeding on the hour mark when Phil Jones rolled past me on his way back to the pitch.
This game was played out in half an atmosphere, and ended up as yet another damp squib with a big team in town. Most of that can be laid at the feet of the Feghouli decision, but it should be said that it wasn't exactly rocking at kick off. I genuinely think some of that is due to the music being so deafeningly loud that people would rather stay in the concourses and finish their drinks than risk their ear drums splitting as "London Calling" is hammered out again and again, and some kids bellow out pre-match predictions on the big screens.
And the half time stuff is even louder. It was like a fucking sonic boom as the teams trudged off and the concourse at the interval resembled something out of Ypres as survivors wandered around shell shocked and desperately in need of a pie that would never come. It's a small, tiny thing but maybe if we could all hear each other there might be a bit more of a hint of an atmosphere.
Another delighted Junior Hammer
10. Sweet Caress
I read with great sadness that a 64 year old Manchester United fan died at the game tonight, having collapsed and suffered a heart attack. There isn't anything I can say at the end of this blog that will be in any way meaningful, but I shall just say that there are certain things that transcend football and life and death is one of them, irrespective of stupid Bill Shankly quotes.
I don't know the man in question, but if he was following his team away from home then it doesn't seem unreasonable to presume he was doing something he loved, and took great joy from and maybe there is some small comfort in that for his family. I doubt it, but I don't really know what else to say. May he rest in peace.