1. D'You Know What I Mean?
I thought you booed this kind of thing?
This was one of those nights.
Nothing really worked, from the trains to the ticket office to the deployment of Manuel Lanzini in support of Andy Carroll. It all stumbled along, barely functioning, until the referees whistle put us out of our misery and sent us off into the chilly embrace of Karren's world class transport links.
If nothing else, this was a return to the Allardycian splendour of two years ago. Had Big Sam produced this disjointed, disconnected performance we'd have whipped out the traditional East London vuvuzelas and booed him until he thought he was George Osborne.
The curious thing about that of course, is that we've wanted this for a while. A dreamy 4-0 win would have been just fine, but let's not run before we're on solid foods. This was a professional but drab, functional but dreary 1-0 home win. We scored when the usually faultless Mark Noble missed a penalty for the first time in years, but tucked away the rebound, and then rode out a mild Burnley fightback to secure the win.
We have now won four league games this season, all by a 1-0 scoreline, and we have yet to win a game in which the opposition have scored. So yes, this was a tedious Muse album of a game, but a win is a win is a win.
2. I Hope, I Think, I Know
The game hinged on the aforementioned penalty, and it was a curious turn of events from start to finish. Things began with a Payet corner that the returning Carroll thumped goalwards with all the vigour of a pissed Geordie giraffe scrumping an apple. As it dropped towards Tom Heaton, both Antonio and Kouyate converged upon the keeper and seemed to foul him. Referee Bobby Madley chose to ignore this and instead played on, before blowing up when Winston Reid was sent tumbling by Ben Mee.
I thought Reid was fouled, but felt Heaton was too, but I also don't care about the perceived injustice largely because we should have had a penalty earlier when Will Keane fairly obviously handled in the box. I don't quite know how Madley missed that one as he had a good view, and it was the clearest misuse of a hand since Friends devoted an entire episode to Joey having an identical hand twin.
Noble then took the penalty and presented Heaton with a weakly struck, seemingly poorly placed effort that the Burnley keeper saved easily, although he then got lucky with the rebound. In general it was in keeping with the all round not-quite-good-enough nature of the evening.
Noble is actually a fascinating penalty taker, as I was discussing on
Twitter
recently with the excellent blogger
@penaltykickstat
(blog found
here
). He has a relatively low xPG (0.73) when he takes penalties, meaning that based on the location of his shots he wouldn't expect to score as frequently as he does (actual PG 0.93). In short he should only score 73% of the time, but does score 93% of the time, prior to tonight. The below heat map shows this clearly:
What's really noticeable about this, is how often the keeper dives the wrong way, with only 13% guessing correctly on his previous attempts. If you believe that this is an actual skill, rather than luck, then you can see why his xPG would be low, because he is constantly striking his penalties into the empty half of the net and therefore he doesn't need to be so precise with his placement. I hadn't really considered this until @penaltykickstat pointed this out to me but I quite like it as a theory.

It also seems to fit with something I've thought for a very long time, which is that if the keeper would have saved a penalty had he dived the right way, then it actually isn't that great of a penalty to begin with. What's also clear is that the higher the penalty, the better the chance of scoring, and yet most of Noble's are hit low. I never thought I'd say it, but Mark Noble needs to channel his inner Keith Richards and get high a bit more often.
Noble's only miss during the period covered was against Spurs on the opening day of the 14/15 season because of course it fucking was.
You can see the Spurs one on here, so far left that it makes Jeremy Corbyn look like Oswald Moseley. For completeness, I should say that I do recall one other miss for Noble which came against Chelsea in 2009 because of course it fucking did.
As for tonight's effort, it actually had an xPG of 0.83 which is higher than his average penalty. So maybe we should just credit Tom Heaton with being a good keeper, accept that Noble is still one of the better penalty takers around and keep an eye on whether he can keep sending keepers the wrong way.
I should also point out that of our three penalties this year, Winston Reid has won two of them, and he continues to display a lovely ability to fall over with great conviction.
3. Where Did It All Go Wrong?
This game was actually very hard to write about. I watched it live, then went home, thawed out and watched the highlights back and I still struggled to hit upon anything illuminating to say. It just...happened...and now it sits in the section of my memory where I put things that I have absolutely no opinion on, such as anybody's Facebook Year in Review slideshow, golf, Mark Ronson or the
Fast and the Furious
films. I acknowledge these things are part of human history but they have never registered in my consciousness with enough force to get me to care about them one way or another.
Put another way, if you told me Mark Ronson fell down a ravine looking at your Facebook 2016 slideshow whilst playing golf on the set of
Fast and Furious 43,
I wouldn't give even a hint of a shit. Which is pretty much how I feel about the events of last night.
Mark Ronson. Apparently.
What I do care about, however, is the outcome of this game. How could I not? These are three of the most important points we will get all year. Having struggled in painful fashion to smuggle two points out of the North West it would have been a disaster to have stumbled here.
We were actually pretty decent in the first half, with lots of nice looking interplay between Payet, Lanzini and Carroll, who were at last being supplemented by a worthwhile Noble performance. Pedro Obiang was dominant once again, and it really seemed inevitable that we would score at some point in the first half. Both defensive midfielders hit the post with raking long range efforts, but by and large Burnley showed their defensive prowess by restricting us to shots from outside the box and blocking anything progressive in the manner of a Republican congress. All of this highlighted again that our shot locations are not good enough, with far too many from outside the box and far too many from Andy Carroll who was apparently wearing his winklepickers again.
Carroll was integral to much of the nice build up though, dropping short to join in with the midfield play and only looking isolated when we went long and failed to get anybody close to him for the inevitable knock downs. This game was actually an interesting insight into the problem that Bilic faces with Carroll. He offers an amazing aerial outlet, but in order for that to be effective we need players around him to pick up the second balls. If he wasn't merely an existential theory, Andre Ayew might be a good fit for that role by the way.
But we seem to look much more threatening when we get the ball down and play, breaking quickly from midfield and engineering situations that allow our wing backs to raid high up the pitch. This isn't surprising as it means that Payet and Lanzini are on the ball, and generally that means we are going to be more progressive. Once we go long to Carroll, Lanzini is generally too deep to help him and we cede possession back. Carroll's link up play was good here tonight, but generally it's not his strength and the worry is that against better teams we will be forced to go long again, and risk taking our best players out of the game.
4. Don't Look Back In Anger
At half time I was purring about how this was the best 45 minutes we'd seen at home all year in the league. This probably said more about the season in general than it did about this performance, but it did at least mark the first time we had led in a home league game at the interval. The Watford home game probably had a better level of play, but we did also manage to concede twice, so - yeah, welcome to 2016 West Ham.
But if this particular game was a "Hopkins" then the first half was Sir Anthony and the second was Katie.
Some of this was down to Burnley, who abandoned their plan to bore us all to death, and suddenly started crossing the halfway line with all the authority of new born foals leaving the barn for the first time. By the time the half was done, however, the visitors had created three decent chances and could easily have been level. I'm not sure it was deserved, as such, given their largely timid approach to much of the game but we can't deny there was plenty of nervous moments towards the end.
That said, we dropped off horribly in the second period with no attacking intent being shown and a worrying failure to pick Burnley off on the break. This was our raison d'etre last season, but with Carroll tiring and keen to get in the queue at Faces, we lost much of our attacking thrust.
I don't really mind about all of this. This was a match that focused entirely around the three points and we won. We came, we bored, we conquered. Hull await - a phrase never yet used by a human being with any enthusiasm, but there we go. Win on Saturday and a whole multitude of sins will have been papered over.
5. Whatever
"It's very frustrating. Every other keeper goes on his back, flails around on the floor and it's given. Because ours do it the proper way … now we're called naive. You know, it used to be applauded when you played the game properly" -
Sean Dyche
I take everything Sean Dyche says with a pinch of salt, largely because I always think he sounds like a club bouncer who has been sent on a management training course, and now speaks in nothing but meaningless platitudes. If you're ever unsure whether a manager is spouting crap, search for the telltale use of the phrase
"this football club",
as though anyone was ever in doubt which club the manager of the fucking team was actually talking about.
Anyway, the above proclamation is a lovely example of the genre. What on earth is he on about? What does he mean by
"the proper way"?
Is he now saying there is a proper way to get fouled?
This holier than thou bullshit, so often the default setting of English managers, is tiresome and boring. Foreign players dive, foreign keepers are no good on crosses, foreign managers don't understand the magic of the FA Cup, African players don't like the cold, those players who don't have a "football brain" are, without fail, always black, and so on....these are the glorious stereotypes of English football.
The granddaddy of them all of course, is that English players never dive. They stay on their feet at all times unless fouled, giving managers the lovely little get out whenever there is a contentious decision to let us know that of course it was a foul - "
he's English"
, as though the careers of Michael Owen, Andy Johnson, Ashley Young and Harry Kane et al never happened. Good honest pros. Proper football men. Shoot me now.
I feel a bit sorry for Burnley that their goalkeeper was impeded, but they could always have tried attacking in the first half of this game. And maybe the tortured martyrs act might hold a little more water if Burnley players didn't keel over with imaginary head wounds every time we threatened to break, or they didn't deliberately foul Dimitri Payet
every single time he got the ball.
6. The Importance Of Being Idle
In the second half, Andre Ayew entered the fray in place of Manuel Lanzini, who looked suitably miffed at being replaced by a theoretical concept.
I actually thought the Argentinian had disappeared himself in the second half, nullified as he was by our failure to keep passing and instead whack it long to Carroll. He seems to lack the speed to play as a second striker, and the reality is that his best performance of the season came at Spurs when he played in a deep lying central midfield role and was thoroughly excellent. In truth, he should probably be playing in Noble's position and dictating the game from deeper but that doesn't seem to be on the agenda
Thus Ayew came on, and was largely peripheral as he continues to be the man without a position. When one thinks of Ayew it is impossible not to think of Descartes ("

I

f you would be a real seeker after truth, it is necessary that at least once in your life you doubt, as far as possible, all things) leading me to wonder once again if he actually appeared tonight or if he is simply a latent existential memory of Luis Boa Morte - like those Force ghosts you see in Star Wars.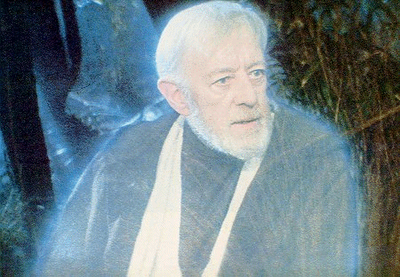 "You paid £20m quid for Andre Ayew? Shit a lightsaber"
Ayew did actually skip through in the last few minutes and clearly thought to himself "I can do it!" even as the
Universe was saying, "No, Immanuel Kant!" and he skewed it wide and now I can't rid myself of the feeling that he might be Boa Morte Redux.
Most teams hate the African Cup of Nations as it steals their players, but for us it might be a good chance to get Ayew and Feghouli back on to the pitch and into some form.
Imagine booing another person. Standing up (for it seems like a standing activity) and putting your lips together to create the sound "Booooooo". I have no idea what this is supposed to achieve, when it is done in the context of West Ham fans booing a West Ham player, as happened when Havard Nordtveit came on tonight.
Some fans seem to feel it is their inalienable right to boo players, and I suppose it is, but it doesn't make any sense to me. It is illogical to be unhappy with something and then immediately act in a way that will frequently only make the situation worse. Like standing on a sinking boat, scooping water into the ship and then yelling "Oh my God, things are only getting worse, why does this keep happening!". It's like a Mobius strip of stupidity.
I vividly recall a Championship game in 2004 against Gillingham when Christian Dailly was booed for much of the first half, which led to a counter faction in the Bobby Moore Lower standing and applauding him in response, and while that was going on Elijah Wood and Charlie Hunnam were in front of me filming their cinematic masterpiece Green Street, just to round out the surreal nature of the day. It was like a battle for the very soul of the Club, but with Andy Hessenthaler instead of God.
Dailly's crime was to have scored an own goal at Millwall, whilst Nordtveit gave away the last minute penalty at Spurs. Imagine being a new player at a club and conceding a penalty to lose a local derby and then having to sit in a changing room with your new team mates who you barely know, having cost them three points. That's what Nordtveit had to do at Spurs and I suspect it was punishment enough. He then bounced back with an excellent performance at Liverpool, and is showing signs of starting to contribute.
I have no idea of how anyone thinks booing him is helpful to that cause.
8. The Shock Of The Lightning
The boos could only really be described as a "smattering", given that most of this game was played out with barely any background noise at all. The Club's official attendance figure of 56,990 can only reflect the tickets sold and not the number of people in the ground, as there were large empty patches everywhere you looked. Let's face it, there will be more atmosphere when I go to see "Rogue One" on Sunday morning with my kids for our family outing that is not-in-any-way-at-the-behest-of-dad.
The cold doesn't help, nor does the fact this was a midweek game which precludes young children from attending but it's still noticeable that the gaps are opening up. Perhaps it was always likely to be this way, with lots of anecdotal stories that people were abusing the Plus 2 scheme to buy the dirt cheap kid's season tickets for low prices and then upgrading to adult tickets for the big games only, while not bothering to use them at all for games like this.
I'm not complaining - I attended this game courtesy of this very situation where a friend upgraded his son's seat for me, albeit his son does attend all the weekend games - but as a Claret Member I have certainly noticed that it is getting easier to obtain tickets, even via the impenetrable West Ham Ballot System sponsored by The Da Vinci Code.
I wonder if there might come a situation at the end of the year whereby the Club review the usage of the kids tickets and try and revoke them for people who haven't used them for children at all? This would create the most West Ham situation ever, where the Club are taking tickets off people at a time they're apparently struggling to fill the stadium.
What underpins all of this is whether the famous 50,000 waiting list is a real thing or not. I am on it, and am apparently at about number 22,000 in the queue, so I can say with certainty that I think it's pretty reasonable to challenge those season ticket holders who don't go to games, when there are people like me who would willingly take them. The problem with that is that I'm going to the games anyway, so I'm not sure that this solves the attendance issue.
I would say we're still drawing at least 45,000 home fans each week, and a five game winning streak would push the attendance back up soon enough, so it's only a problem when the team are struggling, but it's hard to see right now why the Club need to expand to 66,000 as they seemingly want to do.
Maybe there is a reality here that we have a 30,000 core support, and a floating, rotating 25,000 who will come to varying numbers of games through the year. That's fine when the team is going well but when you're losing 5-1 at home to Arsenal and getting played off the pitch by Watford, it becomes far harder to retain that "floating" element. I don't know, but it feels like Karren Brady has the seed of another problem on her hands there.
9. Stay Young
Mere weeks after I predicted that Reece Oxford was going to leave he signed a new contract today, which can only lead me to conclude that Spurs definitely won't be wound up and liquidated in 2017.
Our record of producing young players in recent years isn't terribly good, despite the Club's Pravda style protestations to the contrary, and it would be marvellous to see him and the likes of Reece Burke, Marcus Browne or Jamal Hector-Ingram make it through.
Not only is it exciting for the crowd, who love the mythology of the Academy, but it's economically helpful as the more players we graduate from the ranks, the fewer are recruited by David Sullivan.
Oxford is a great looking prospect, and one who could end up playing plenty this year given the dross in front of him. Kouyate has been dropped to the back three to make up for the lack of a right back, but in theory Oxford could play there and let the Senegalese advance into midfield where he can charge about like a rogue firework and get back to causing havoc in advanced areas.
Credit to the Club then, for repelling the advances of others and keeping a good young player at West Ham. God knows we need him.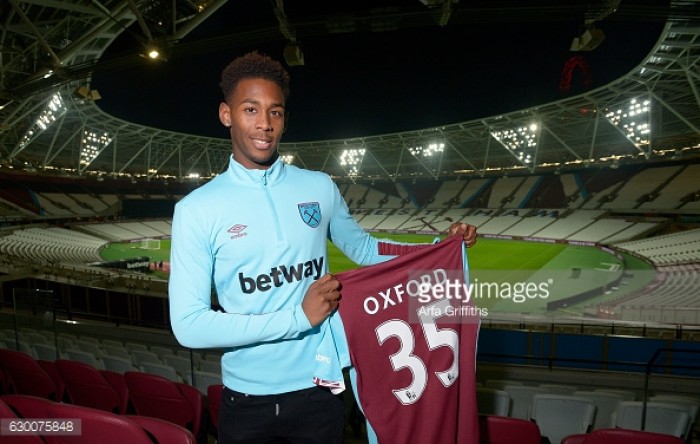 Reece Oxford, seen here a mere three miles from the touchline
Let this also serve as a reminder that I talk an awful lot of shit, and whilst I want you to read and retweet and share my work, I would also be grateful if you could not remember any of it.
10. Stop Crying Your Heart Out
This article has been my Vietnam. How do you write a column on West Ham beating Burnley in a shit, boring game where the most noteworthy thing about it was the opposition pretending to have hurt their heads? I've had a two day hangover, spent staring at a blank screen suffering wild fever dreams where Sean Dyche is in a black bomber jacket with a little photo ID on his arm saying "Sorry lads, you can't come in to the football club unless you've got some girls with you.".
I am done. Here I am hitting "publish" on the keyboard and then realising that I'm going to have to do this again tomorrow for a game against Hull, who are actually worse than Burnley.
Would it be too much to ask for you to shoot me?