1. Helplessness Blues
"In that dream I can hardly contain it
All my life I will wait to attain it" - Grown Ocean,
Fleet Foxes
With one eye closed, son, some of them still look like professional footballers
In some ways I feel a bit sorry for David Sullivan and David Gold. I know that won't be too popular, but you have to imagine that this season is like a footballing snuff movie for them.
After all, this was it.
Finally we had taken the step forward to compete with the big boys. Sure, we left Upton Park behind and some fans seem unable to get past this, but this was the only way West Ham were ever going to be able to compete on a remotely level playing field with the UEFA subsidised global brands at the top of the Premier League.
But in order to get their gleaming new jewel of a stadium, they were forced to agree to keep the athletics track, largely in order to fend off a bid from Spurs which wasn't even particularly serious.
But since that moment, well...imagine if you had never left the UK in your life and you entered a competition to go to Turkey, and you won, and you were thrilled and couldn't wait and then found out that you'd actually won a trip to Torquay.
Loosely it's the same thing, and you really want to like it because you finally won something, but deep down in your very core you know that the thing you've won isn't what you wanted.
Why do I feel bad for them? Because they didn't want this. They like to keep it on the down low but they are fans themselves, and no doubt all of their summer moves were done with the intention of improving the squad. The announcement of signing a £30m striker and then failing to do so pissed off everyone from Diafra Sakho to Ray Winstone. It was yet another sign of them hoping something was true, and then being hit with the reality that it wasn't.
And that's where we are with the stadium. It's a home away from home. The running track means we're miles from the action, which isn't necessarily a bad thing when the action is as bad as this, but putting physical distance between the players and the fans has soon lead to an emotional distance as well.
The empty seats dotted around on Saturday were telling in their own way. I considered taking two of my daughters, until I realised that would have cost me £180. Let that sink in. The Club don't even think kids deserve discounted tickets anymore, so confident are they in their ability to fill those seats with fans.
Put another way, for me to attend this game with two young fans would have cost me more than it did for those mythical Spurs fans who bought a couple of kids season tickets in the summer at £89 a pop.
That said, if you think about what's been served up at the London Stadium this season, Spurs fans have probably had more to cheer about than us.
2. He Doesn't Know Why
"In that dream I'm as old as the mountains
Still as starlight reflected in fountains" - Grown Ocean, Fleet Foxes
Praying can help, Slaven
Slaven Bilic looked like a broken man during this debacle. Stood on the touchline, miles from anyone, bemused by the utter shit unfolding in front of his eyes. Much like Dimitri Payet, in fact.
After his extraordinary post match admission that the players have "lacked intensity" in training - code for "they're fucking about, the lazy twats" - it doesn't seem unreasonable to ask whether he still retains the support of the squad. They're certainly playing like they wouldn't mind hearing a new voice in the changing room.
This has been a brutal run of fixtures which I would characterise as follows:
Spurs (a) - A game we set up to win, tried to win, should have won. And lost.
Man Utd (a) - A game we set up to draw, tried to draw. And drew.
Man Utd (a) - A game where we hoped that none of our players contracted dengue fever. And lost. Horribly.
Arsenal (h) - A game where the best that can be said for us is that we managed to get 11 players on the pitch and none of them were Gokhan Tore.
3. The Shrine/An Argument
"...wide eyed leaver, always going" - Grown Ocean, Fleet Foxes
Saturday will have been a familiar look for long time fans. We set up like a non-league team drawn away at Man Utd in the 3rd Round of the FA Cup, and by half time should have been 4-0 down. Despite having Payet, Lanzini, Obiang and Fletcher we offered nothing in attack.
Whatever work had been done this week in preparation for this game did not apparently involve crossing the halfway line as all the players got nosebleeds when they did so, and generally we looked as toothless as one of Heisenberg's New Mexico meth addicts.
This was all the worst elements of Allardyce, Curbishley, Zola, Roeder and Grant together. The cluelessness of the attacking play combined with the worst defence since Lee Harvey Oswald's attorney said
"Your honour, but he never realised it was loaded!".
We have regressed to such an extent that the only thing we are really hoping for from our trip to Anfield is not to pick up any more injuries. 'Tis the season, after all.
From the moment the teams were announced here, it was impossible to see how we could win this game and whether you're a Bilic fan or not, that is unacceptable. I veer wildly between thinking that last season wasn't a mirage and that he has been let down by terrible signings, bad luck and unfortunate injuries, and then watching games like this and thinking that he has to go. The fact that I am so changeable is largely due to the fact that the team are so madly inconsistent from game to game, and even from half to half.
In the end, my opinion is irrelevant but I'd give Bilic the Burnley and Hull games and then see where we stand. I'm not entirely convinced that Roberto Mancini is going to able to get anything more from this current shower, and once you go to a new manager you are resetting your team. The new man will want time, a full preseason, and generally a change of everything. If we go away from Bilic now then the last eighteen months have been for nought.
Of course, where you stand on that will probably depend on whether you think Bilic has built on, or eroded, the base that was left for him by Sam Allardyce.
4. Quiet Houses
"I know someday the smoke will all burn off
All these voices I'll someday have turned off" - Grown Ocean, Fleet Foxes
There was a minute's silence held at the start of this game for the tragic victims of Chapecoense plane crash, which then continued for the rest of the evening. Arsenal fans even sang "Is this the Emirates?" which is admittedly pretty funny.
That's not a dig at anyone, as only someone on psychotropic drugs could have found any joy yesterday, but it's a reflection of reality. In the symbiotic relationship between fans and their team there is now an athletics track sized obstacle between the two participating groups and the symbiosis has dissipated. Plenty hark back to Upton Park with rose tinted glasses, but it wasn't this flat this frequently.
But it can't all be blamed on running tracks and temporary non retractable seating. The cold hard truth is that we have been abysmal at home. Truly awful. Even the games we won, against Sunderland and Bournemouth, were undeserved and otherwise we've been poor even though Arsenal are the first top level team we've played.
Interestingly, if I look back on the season as a whole the only two games that I think we demonstrably should have won are Palace and Spurs away, one of which we lost and the other required Cristian Benteke to take a penalty like he was wearing VR glasses.
I still think our home form will be the key thing that keeps us up, purely based on history, but I think what I'm really saying is...stock up on psychotropic drugs.
5. Heard Them Stirring
"...I'll have so much to tell you about it" - Grown Ocean, Fleet Foxes
And what of the game, I hear none of you ask?
Well, Arsenal scored five at West Ham for the first time, which seems remarkable considering that they beat us all the time and Alexis Sanchez was masterful. But the real story was that the game was somehow only 1-0 after 70 minutes.
Sanchez scored a hat trick, Oxlade-Chamberlain thumped in a beauty from outside the box and Ozil opened things up with a tap in, and the only thing you could walk away from this game thinking was "How on earth did we keep it to five?".
The opening half an hour of this game was about as one sided as the time the Americans went to war with Grenada, which coincidentally was also a pointless mismatch just before Christmas. James Collins got injured after four minutes, because there is a quota and someone has to, and thereafter Alvaro Arbeloa came on - about 5 years too late - so that we would at least have someone who could take throw ins over there when Arsenal misplaced a pass.
That wasn't very often, sadly, as Monreal and Oxlade-Chamberlain repeatedly cut us open as Arbeloa looked every inch a 33 year old free agent with no fitness. Another triumph for David Sullivan and his army of agent-scouts.
We started with the 3-4-2-1 formation that hasn't been working for a while, and quickly reverted to do-whatever-you-want-lads-I've-got-no-idea-anymore once Collins went off. I don't actually think Bilic wants to play this system particularly, but with Arbeloa proving as useful as having Europe's largest digital wrap he doesn't really have much choice.
One of the many issues with it, is that without Cresswell he has no drive along the left side to support Payet. Arthur Masuaku is, like Arbeloa, short of fitness but he doesn't offer much in attack and thus Arsenal had little trouble containing Payet today. By the time the second went in his interest had waned to the point of non existence, or perhaps a blinking disbelief that his team mates could be quite so shit.
Mind you, it also didn't help that Angelo Ogbonna attempted to pass the ball directly through another human being in the lead up to the Arsenal opener. Say what you want about James Collins and his declining physical skills, but he does at least respect the basic laws of the Universe. These state that you should not attempt to kick a football through solid mass, and when you're playing against Alexis Sanchez you should at least attempt to fucking tackle him every now and again.
6. Someone You'd Admire
"You would come to me then, without answers" - Grown Ocean, Fleet Foxes
Farewell Payet then. I've said it for a few consecutive performances but he doesn't seem terribly perturbed by events unfolding around him. That might be unfair as he always looks languid, and one thing I've grown to appreciate is that even when he's playing well he's actually a peripheral player. He drifts in and out of games, but last year that mattered far less as players like Noble and Kouyate were actually useful in attack, whilst we had forward players who could influence the game.
Say what you will about Ashley Fletcher but for all his obvious promise, starting him while £60m of strikers sat on the bench might just be the most damning indictment possible of our scouting and medical teams.
How he would leave for Madrid if this was a musical
Payet will go because 29 year olds who are good enough to play for Real Madrid don't sit in the bottom half of the Premiership. Spurs couldn't keep Bale and Modric so we won't keep him. The Club will put up enough of a fight to make it look like they tried but it was probably a done deal the moment West Brom's fourth went in and we truly began to understand the extent of the malaise.
There are rumours today that Arsenal are interested but I doubt that the Board are that suicidal. Selling Payet will be bad enough, but selling him to a London rival would be bonkers. I also don't like the idea of dealing with Arsenal as they aren't stupid like Man Utd or Chelsea. Any deal with the North Londoners should require Alex Iwobi coming back the other way, which of course means we'll get Per Mertesacker.
In some ways we might already have Payet's replacement, as Andre Ayew looks like a player without a position thus far. His brief but positive cameo at Old Trafford was followed up by him having a leisurely stroll around here that didn't exactly endear him to many. But like so many others he is returning from injury and needs games and an actual functioning formation in which to play. By the end of this match we were so bedraggled that we looked like the marines in Aliens with men disappearing everywhere and Mark Noble lying in the middle of the park yelling "Game over, man, game over!" as Mesut Ozil outpaced him whilst not appearing to run.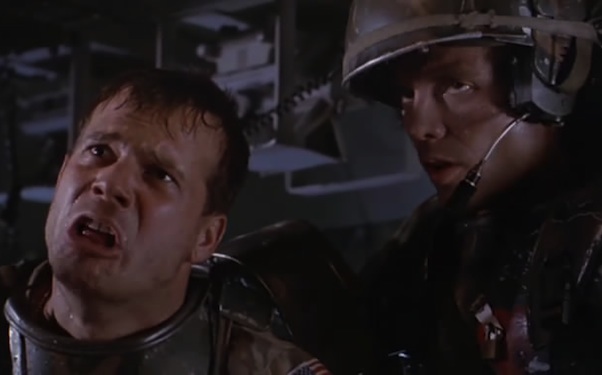 Wait, you're not bringing him on until they score again?
Bemusingly, Andy Carroll was left to warm up for 25 minutes of the second half despite it being obvious that it would take an asteroid, a pack of wolves and an avalanche to disturb the Arsenal back four. Gloriously, as Bilic was finally lining him up to bring him on, Sanchez scored the second to put the game away for good. Carroll did later score to make it 3-1, heading in a Payet free kick that came back off the bar, and if nothing else he should be fit to start and get injured next week at Liverpool.
7. White Winter Hymnal
"Eucalyptus and orange trees are blooming
In that dream, there's no darkness a' looming" - Grown Ocean, Fleet Foxes
A quick glance to January then. Our season could actually be over by then, because after the inevitable defeat at Liverpool we have Burnley, Hull, Swansea and Leicester to play which really is a trip through the detritus of the division. If we don't get points there you should start investing in those guide books to Rotherham that I was mocking last week.
A quick squint at
Transfermarkt
shows a number of right backs who will be out of contract in the summer and therefore possibly susceptible to a bid in the window:
Pablo Zabaleta (31) - Man City
Branislav Ivanovic (32) - Chelsea
Bacar Sagna (33) - Man City
Antonio Valencia (31) - Man Utd
Glen Johnson (32) - Stoke
Rafinha (31) - Bayern Munich
Dario Srna (34) - Shakhtar Donetsk
With the exception of Valencia, the above all meet the criteria of being past their prime, expensive and not playing very much at the moment. These will be catnip to Sullivan, so keep an eye on them. I added Srna as he is Croatian and well known to Bilic, but I don't get the impression that the manager will get too much say in this window as Sullivan looks to redress the balance of his horrendous summer in the manner of absolutely no other English chairmen anywhere.
Also out of contract are the following forwards:
Saido Berahino (23) - West Brom
Eder (30) - Inter
Lima (33) - Al Ahly (Dubai)
Nilmar (32) - Al Nasr (Dubai)
Not much here, really. Berahino feels like a typical West Ham signing as he's overrated and overweight so he might make a nice homage to the Mido/Benni McCarthy signings of Sullivan's first season but I can't see him coming.
Eder is actually very good and in some weird love triangle with Inter and Sampdoria meaning he won't come either. That leaves a load of South Americans playing in Dubai, which again is a David Sullivan wet dream. It's worth watching them, but I suspect that we'll have to spend real money here which is bound to end about as well it usually does.
8. Sun Giant
"Kept like jewellery, kept with devotion" - Grown Ocean, Fleet Foxes
Interesting that since dropping Adrian and bringing in Darren Randolph we have picked up one point and conceded 9 goals in 3 games. Of course, Adrian also managed to concede 4 himself in the middle of that little run which just goes to show that a goalkeeper is really only as good as his defence.
Randolph and Adrian were both probably as good as each other in those Old Trafford matches, but for the league game we had some backbone (and full backs) and for the Cup game we didn't. C'est la vie and all that but Bilic needs to get a defensive system in place before those Hull and Burnley games.
Those are two terrible teams, but they are committed and will run all day and by his own admission we have not got those qualities right now. Whatever happens between now and the end of the season, it is to be hoped that we see an actual proper pre-season next year and not a meaningless tour to the US for photo opportunities and brand awareness.
Changing your goalkeeper when your back four is this porous really is blowing into a hurricane.
9. Drops In The River
"I will see you one day when I've woken
I'll be so happy just to have spoken" - Grown Ocean, Fleet Foxes
Passion. I fucking hate that word.
It's so completely meaningless as to be almost redundant. Footballers don't play better because they sing their national anthem loudly. The Brazilians were belting it out in 2014 at the World Cup and the Germans had them all crying after 25 minutes.
Likewise, just because Lawrence Dallaglio was weeping before a World Cup semi final in 2003 doesn't mean that it would be in any way useful for Gary Cahill to do the same in 2016. It would be much more useful, for instance, if Gary Cahill could learn how to defend.
I digress. Footballers play well or badly. The things that make them play well are manifold and complex. Their own technical performance, their tactical awareness, their physical condition, luck, their mentality - all sorts of things.
But ultimately they well or they play badly through a combination of the above.
And when they don't play well, football fans often decide that it's because the players don't care. My experience is that this is generally because it's easy. Rather than give any thought to it, we can just say "Arbeloa doesn't give a shit does he? Absolutely no PASHUN." and leave it at that.
But here's the thing. Arbeloa played poorly on Saturday because he's not fit. He hasn't played in weeks and look about as mobile as the Cutty Sark. He may actually be too old for this level altogether. He also got his positioning all wrong, seemed unsure as to whether he was playing as a third centre back or a full back, and got barely any protection from the otiose midfield in front of him. while the excellent Arsenal pairing of Monreal and Oxlade-Chamberlain terrorised him.
It wasn't a lack of passion, because passion is a meaningless catch all word that says nothing. He just played badly.
When we watch football we demand our team care as much as we do, and think it's the least they can do. But the thing is, the only people who care like we do are in the stands with us. And I don't want my team that pumped up and emotional because then they wouldn't be thinking clearly and wouldn't make sensible decisions.
As Danny Baker says, the only people in the ground who've paid to be there are the fans. We can show all the passion necessary (whatever that means).
I just want my team to play well.
10. Sun It Rises
"In that dream, moving slow through the morning" - Grown Ocean, Fleet Foxes
I had promised myself I would say something positive about the Club in this article because it's been a while, and then they somehow took the midweek 4-1 defeat, laughed in our face and said "that's amateur hour pal - watch this!"
I did read however, that a fan was prevented from bringing into this game a banner demanding the sacking of Karren Brady. I don't really know where I stand on this. I believe in free speech and I believe in speaking truth to power but I'm also not into public trials for people who don't deserve them.
I am a little unclear as to why Brady bears so much criticism from fans. She has managed the Stadium move, of course, but she did so at the behest of her employers. She was instructed to win the bid, and did so and against an opponent who was willing to hack her phone in the process, by the way.
Now, I'm a former season ticket holder of 25 years who was leapfrogged on the waiting list by thousands of fans on the Plus 2 scheme. I thought, and still think, that was a disgrace. But a little perspective is needed here.
The move has been a PR disaster, and at best a qualified success in real terms. There are plenty who won't ever forgive her for the simple fact that we no longer play at Upton Park. But I say again - she didn't choose to move - Sullivan and Gold did.
Viewed objectively - and I know some of you are going to choke on your tea at this - but Brady is by far the most competent executive we have ever had. Do I need to remind people of Scott Duxbury and Paul Igoe, the men who thought third party ownership wasn't a big deal?
How about the time we missed out on a League Cup Semi Final because no one bothered to check if Manny Omoyinmi was cup tied, and then we brought him on for 25 seconds?
Maybe I could remind you of the season we played without a sponsor, because who needs extra money when you're raking it in from the portakabin serving as a club shop.
And for those of an older vintage, you will no doubt recall the £1.3m Bond Scheme, which proved so popular the fans invaded the pitch and had a sit down protest during a home game. In fact, for most of my childhood I assumed we had a player called Zach Verboerd that the fans loved to chant for - and was presumably injured, this being West Ham.
Only after I saw the "Lying thieving cheats" banner did I figure out it was "Sack the board" that was the theme tune to my childhood.
Brady has her faults, and her lack of humility grates on me. But she didn't sign Tore or Zaza or Calleri or any of these other disasters, and she didn't forget to mark Alexis Sanchez either.
She's a competent executive, doing a tough job, getting some stuff wrong, and not being openly reflective enough of that. I'm not here to defend the banning of innocent fans, or the Club using a 15 year old's Twitter feed as their man form of communication, but just to try and present the other side of the story.
I don't see how this stuff equates to her needing to be fired. In any normal business that is failing as West Ham is, a review would be carried out of the decision making processes that are being followed to allow such consistent poor performance. The problem is that the person making all those decisions is David Sullivan, and he is highly unlikely to sack himself.
So, if you must direct your ire at someone then at least have a think about what it is you're pissed off about. If a 5 game winning streak would solve your issues, then the guy you're upset with is Sullivan.
And if your critique of Brady involves the words "bint", "bitch", "slag", "slut" or any other gender based insult then I'd suggest your issue is probably as simple as the fact that you're a fairly keen misogynist and you don't like the fact that a woman is in a position of power.
Nobody at West Ham is above criticism. It's West Ham for fuck's sake, they're always messing something up, but I've got Karren Brady quite a long way down my list of people to be pissed off at. And that's even allowing for the fact she won't sell me a season ticket.
One had no money. Neither did the other. You don't want them back.