1. Save Me
One of the joys of having children is watching them grow into confident young people, with their own opinions and thoughts on the world.
It should also be said that one the downsides of having children is watching them grow into confident young people, with their own opinions and thoughts on the world.
Gone are the days when I could simply put my own music on the car stereo or watch what I wanted on the TV. Now I have to listen to Capital and watch drivel like "
The Voice
" because when you tell children to think for themselves you can't really ignore them when they do, or it sort of defeats the purpose.
I'm sure he's very talented
One such demonstration of their independent thought has been an insistence on introducing me to the music of Ed Sheeran. I have welcomed this new element in my life with roughly the same level of enthusiasm as Native Americans greeting the Pilgrims turning up on their lands, riddled with leptospirosis.
His latest tune is an eight hour form of Chinese torture called "Castle on the Hill" which takes us on an autobiographical tour of Ed's childhood in Suffolk. He tells us of the time he broke his arm, his first love, his first trip to the dentist, his ongoing love for the music of Sid Owen, the trouble with biscuits and their packaging, the time he took a city break to Budapest and somewhere around this point I began to wonder if at any point Ed was planning of introducing any more traditional elements into the song like, say, a melody.
But Ed is not old fashioned like that and on he went, reciting his grandmothers twelve favourite Psalms and then including the name of every person who died on the Titanic before telling us the exact life situation of his four closest friends followed with the lovely line "but these people made me", with that use of the word "but" really being quite telling.
Anyway, at half time in this game I was thinking to myself - "This is like that Ed bloody Sheeran dirge. I'm 45 minutes in and I keep wondering if a game of football is going to break out".
2. Out Of Nothing
Looking back now, it seems impossible that we nearly lost this game.
We dominated most aspects of the match, although in fairness to Watford that is largely because they simply stopped attempting to attack after they scored. This actually happened in the second minute of the game after Cheikhou Kouyate ran straight into the back of Mauro Zarate in the style of a dog who hadn't seen this owner in about three months, and gave away a penalty that Troy Deeney stuck away with aplomb.
At this stage you might expect me to make a sarcastic comment about our ongoing determination to play an entire season without a right back, but I have decided to engage myself in less frustrating endeavours such as arguing global macroeconomic policy and UK interventionism with Sue's husband Roy on Facebook.
Of course, Kouyate is a professional footballer and therefore it might be reasonable to expect him to make a better fist of tackling than he did, but for the second game running we were behind to an early goal as a result of our porous right sided defence.
For the remainder of the first half we huffed and puffed ineffectually, with our sole threat coming whenever Michail Antonio got into the inside left channel and sliced through the Watford backline. As Bilic said after the game, "Antonio was our best player but he can't get the ball, run down the wing and cross it to himself. Well maybe someday, but not today".
At this point I'm almost tempted to suggest that perhaps a good idea might have been to therefore give Antonio someone to cross to, but I'm not sure that would have fitted Bilic's preferred option of picking seven midfielders and playing them all out of position.
So after a fruitless forty five minutes spent creating opportunities for us to create opportunities without actually managing to create any opportunities, we simply steamrollered them for much of the second half. Lanzini, pointlessly marooned out on the left again in the first half, was moved inside to great effect after the break. Flitting in between the lines, he was a constant menace and finally provided a bit of worthy support to Antonio, who by this stage was looking like John McClane in Die Hard, wondering when a bit of help might turn up.
In the end it was these two who created the equaliser, as Watford made the fatal mistake of looking vaguely offensive for a moment, and Lanzini burgled a midfield ball to release Antonio one on one with Younes Kaboul. That's like leaving Sam Allardyce alone with a pie, and Antonio duly gave him the full Yippee Ki-yay before somehow hitting both posts with quite possibly the most West Ham shot of all time, and briefly convincing me that this weeks article was going to consist of only two words. Thankfully the ball rebounded to Andre Ayew, in one of his brief appearances on our plane of existence, who cushioned it nicely back in for a thoroughly deserved equaliser.
This seemed to remind Watford that it was possible to venture past the halfway line and the closing quarter was a duly helter skelter period. Both teams had chances to win, and despite our superiority in the overall statistical analysis, it's hard to say that a draw wasn't a fair result. Watford sub Isaac Success went especially close as he barely failed to nudge in a winner with the last kick of the game, after some set piece defending that came straight out of Aliens.
Some nice looking shot locations here, courtesy of
@11tegen11
, with the most glaring miss being Antonio's second half header from a glorious Cresswell cross, that really should have got us back on terms. Watford, meanwhile, didn't manage an attempt on target apart from their penalty. Jose Fonte Baby.
3. Come Back To What You Know
I have no issue with the team going away for four days of warm weather training in Dubai. In true West Ham fashion, they didn't actually get any warm weather but the principles were sound. Get away, bond, train more frequently and use the opportunity to reenergise for the run in to the season.

All of that is logical, which makes it even more bonkers that upon returning we went straight back to the system which had failed us in the first half against West Brom. Lanzini was stuck uselessly out on the left like an Argentine Jeremy Corbyn, Snodgrass looked lost in the middle and Kouyate was once again wasted at right back because Bilic seems to prefer that to choosing between his three central midfielders.

Putting Lanzini out wide is particularly egregious as his footwork and ability to take on and beat a player is invaluable against pressing teams. In this game alone he successfully did this on seven out of eight attempts which was as many as the Watford team combined, and he led the game with twelve ball recoveries. In short, the Jewel is now our leading player and the odd decision to play him wide of Snodgrass deprived us of his proper influence in the first half.

What was brutally apparent, however, was that our attacking options are criminally limited at present. With Carroll and Sakho absent once again, it fell to Antonio to strive manfully on his own up front. Whilst he did a good job, his best position seems to me to quite clearly be as the wide player in a front three, joining at the back post to win headers and bully full backs. As Bilic alluded to, he frequently got into positions to put dangerous balls into the box and found no targets to aim for. It seems a little curious that Calleri isn't being used more frequently for no other reason than we ought to be finding out what we have with him, before he goes back.

He was actually due to come on in place of Noble just as Ayew equalised which suggests that, if nothing else, Bilic knows which of his three central midfielders is most vulnerable should he ever choose to make a change. As it was, the skipper stayed on as Bilic looked to protect a point that means we have now lost just one of our last seven away league games.

So, in short, it was a half decent performance with lots of nice things about it and at the same time lots of frustrating nonsense, far too much of which is being caused by a steadfast refusal from Bilic to stand up and pick a team of players in their correct positions.
4. Gravity
The day when Bilic addresses this may come as soon as next week, as Antonio was latterly sent off for a brainless handball and will now miss the Chelsea game. In truth, he'd been on thin ice for a while as he totted up fouls all over the place. I have no complaints about his dismissal, although I can barely believe that M'Baye Niang didn't join him as he did exactly the same thing all night and somehow managed to not even pick up a yellow card.

Referee Craig Pawson seemed predisposed to trying to allow the game to flow, but Watford are managed by an Italian and pulled off a masterclass in professional fouling. I haven't seen a team so cute at breaking up play since Ranieri's Leicester, who also adopted a "Thou shall not pass" approach to defending that one rarely sees outside of Serie A.

I'm not entirely convinced that Pawson was going to book Antonio immediately for the handball - if you squinted your eyes you could (wrongly) argue it was accidental - but Tom Cleverley didn't play all those years at Man Utd without learning a thing or two about shithousery. He was straight on to the ref as if Jose Mourinho was whispering in his ear, and out came the yellow and we'll now have to face the league leaders without a fit striker. If only there was some way we could have anticipated this and potentially planned for it, but sadly that sort of thing is just impossible.

Where Pawson did screw us was in not giving us at least one of two decent penalty shouts. Kouyate was wrestled to the ground by Niang in the second half in what seemed to be a fairly clear instance of foul play. Pawson simply waved it away rather than make a decision, although Bilic can't complain about that as he currently doing the same thing with his midfield.

Earlier, Antonio had got on the wrong side of Britos who thudded into him from the side. Had he fallen it would have been a strong shout, but instead he stayed on his feet and Gomes saved smartly. I'm really unclear as to how we're supposed to eradicate diving if players never get awarded fouls unless they fall over. I mean - we're all agreed that Joey Barton is in the wrong here, yes?
5. Happiness Will Get You In The End
You might remember that after our defeat in the reverse fixture in September, noted moral philosopher Troy Deeney declared that he felt "
West Ham were trying to mug Watford off
", which duly inspired their marvellous second half comeback.
He was especially aggrieved about the Rabona cross which Payet put in for Antonio to score his second. Now you and I might think that a Rabona is a particularly good bit of skill, but Troy informs me that it is in fact an attempt to mug someone off, and therefore cannot be allowed.
Let's look at Payet here:
This painting by Raphael is called "Zaza the Optimist"
I am not entirely clear that I know what "mugging off" really entails but I think the general gist is that you shouldn't be attempting to embarrass your fellow professionals, which I think is a reasonable stance to take, but is perhaps fraught with danger. For instance, someone like me, who is not as attuned to the Byzantine rules of "mugging off", might think that mimicking the dance move of a fellow professional could be construed as a bit of mugging, and indeed, offing.
Here is Troy Deeney doing exactly that to Paul Pogba a week after that very same game.
This is definitely not mugging someone off
Now you probably don't care about that, because a footballer having his own dance move is just about the worst thing in the world, but I'm really more interested in the elusive understanding of what truly constitutes a proper "mugging off". I'm concerned that I'm missing something, if I'm honest with you.
I could also point out that in 2012,
Troy Deeney was sentenced to jail for ten months for kicking someone in the head during a brawl
, and maybe his idea of what constitutes the appropriate way to play football is really a bit fucking redundant. But I won't. I might be mugging him off.
6. Even Smaller Stones
With twelve games to go, we have no chance of going any higher than our current ninth position and no risk of being dragged in the relegation battle. The remainder of our season is like a Robbie Wiliams album - pointless, but unavoidable.

One would think that in that scenario, there would be quite a lot of licence for Bilic to experiment with his squad and give a nice ten game trial to some players he needs to know a little more about.

Sam Byram is the obvious example here, but instead he sits marooned on the bench as all of our midfield, two wingers and three lads from the ticket office get a game in front of him. I'm not convinced that Byram is the answer, but it concerns me more that Bilic isn't even asking the question.

I say again - these games don't fucking matter.

On a similar note, the Club have decided to loan out some of our more promising youngsters. Reece Oxford has gone to Reading, Reece Burke and Marcus Browne went to Wigan and Toni Martinez is at Oxford.

As part of the Gang of Four who were involved in the Tevez affair, we should never be lending Wigan players, but both of them have been injured so my hope is that they are having to subsidise the wages of two squad members who won't play for them again. We'll get that £20m back somehow.

Reece Oxford is in the most frustrating situation of all, as he is just sitting on the bench at Reading, although Toni Martinez is getting a fair bit of playing time.

I'm not actually in favour of throwing youngsters straight into the first team, which is the usual default position of certain fans whenever results take a turn for the worse. Premier League managers aren't in the habit of leaving out players who could make their team better, so if a youngster isn't in the squad it's because he hasn't proven himself yet. Loans to lower league teams are a much better idea as they bridge the gap between youth and senior football much quicker than a season of five minute substitute appearances.

All of our golden generation bar Joe Cole went out on loan and came back better for it. Ferdinand and Defoe went to Bournemouth, Lampard went to Swansea, Johnson survived a stint at Millwall and Carrick was at both Swindon and Birmingham. These loans are a good idea, but only if they play. Truthfully, if Jaap Stam can't risk Oxford because he's in the play off hunt that's fair enough, but then the Club should recall him and either get him some first team games with us, or arrange another loan.

I'll admit that I don't know if another loan is allowable under the rules. I'm as familiar with them as I am with those of "mugging off". The broader point here is that if Oxford is indeed a miniature John Stones, destined to be a ball playing centre half, then he is going to make a few mistakes and we'll have to suck that up. I'd rather we started that education now, when the stakes are low, but I accept with Fonte having arrived that is now a dead duck. All of which combines to leave our brightest prospect playing no football. This seems...sub-optimal.
7. Higher Sights
Having said that about the meaningless nature of this season it seems reasonable to ask what exactly we are looking to achieve between now and May. What are we aiming for?
Of course everyone will pay lip service to finishing as high up the league as possible, but we have no chance of making up the seven point gap to West Brom, which is just about the most depressing sentence I've ever had to type.
So, if we aren't going to use these games to work toward next year I suppose it's fair to say that we'll have to look at what we have. Look out for Cresswell, who improved dramatically in this game, which was perhaps not unrelated to Masuaku being back on the bench. Andre Ayew got some games at the AFCON and looked a bit sharper last night - understanding what position we are going to use him in would be a big help.
All of that is fairly prosaic though. I'm thinking it's been a while since we've done anything barmy. Sure, we're currently playing all our midfielders out of position but that's small beer. I think we have us in it to do something properly bananas. Enter Wayne Rooney, England captain.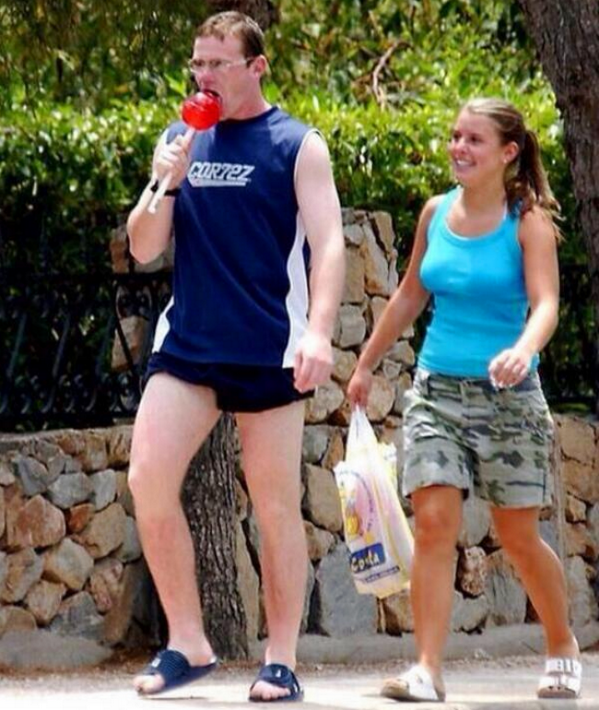 Let's be honest - he'll fit right in
I think we're going to try and sign Rooney in the summer. I have absolutely no sources telling me this and this is purely a theory, but stick with it for a minute.
This would, of course, be a terrible idea which sadly increases the likelihood of it happening by about 800%. Unfortunately, the Manchester United all time leading goalscorer is like an angry, balding Scouse Christmas present for David Sullivan. He's in decline, he's famous, he's waaaaaay overpaid and he'll be literally useless in two years time.
If one assumes that Rooney isn't going to China because they don't do big enough lollipops, then that doesn't leave too many options. I don't see him playing in another European league, which leaves the MLS or a fucking lunatic team in England. Do you see where I'm going with this?
No proper teams will be interested, which means we start to get into mid table teams with money. With Payet off the books and Sullivan desperate for a marquee signing, there is some wiggle room for wages at West Ham just now. I'm not sure that Everton could afford it or are that stupid, although I suppose that Rooney might offer them a small discount to go home. No other mid table team fits either financially or in any other sense.
Most likely of all is that he goes to LA Galaxy and fades into irrelevance there, thank Christ, but do not be surprised if we are heavily linked once the silly season begins.
8. Fireworks
Watching Slaven Bilic on the touchline during this game was to see a man on the edge of madness. He looked like I do when I write these articles on my Mac and then after I've posted it, I notice all the various little improvements that Steve Jobs' gang of lunatics have made to my prose. Bilic has become Billie, Lanzini becomes Lansing and hearsay becomes heresy which is at least quite clever I suppose.
Anyway, after a year of keeping his cool under remarkable provocation, Bilic has suddenly become incredibly animated on the touchline. I wonder if there is a little link here to the story
which emerged in The Sun
, the Sullivan organ of choice for formal leaks, stating that Bilic was history unless he managed a top eight finish. Once the board start briefing against a manager it's very hard for him to turn it around, albeit Bilic is a far more popular incumbent than the previous victims.
All of this is hearsay and speculation, but it is a quite remarkable change in demeanour for a manager who has never previously got too involved with commenting on referees. Maybe it's nothing, maybe he's completely on edge at the prospect of getting the chop or maybe he doesn't subscribe to my line of thinking that these games are essentially meaningless. He seems a bit....different to me though.
Airborne microphone just about to land on the lino's head
9.
All You Good Good People
If you would allow me a moment of self indulgence, I would like to thank all of you who read, shared or commented
on the piece I wrote last week about my old youth team coach, Steve Cowley, and his sons Danny and Nicky
- currently plotting to defeat Arsenal in the FA Cup quarter finals with Lincoln. I was greatly touched by all the kind words, and the lovely feedback.
As an addendum, I thought you might like to know that I received a really nice message from Nicky, sent at 3am after he just got back from a game at North Ferriby, thanking me for writing the piece. Given that he and his brother are currently being inundated from all sides for interviews and comments, I am well aware that he didn't need to do that and indeed scarcely had time to do that. A measure of the family, I think.
I also made a couple of comments in the piece about my own playing ability. Three people got in touch to tell me I'd been too harsh on myself - Steve, Danny's wife Kate, and my sister. I think that sort of proved my point.
10. One Big Family
Last week I was a guest of Phil and Jim at the Stop! HammerTime podcast. We chatted about the West Brom game, the late lamented and brilliant
Fortunes Always Hiding
fanzine and Donald Trump sorting out our right sided issues. Phil forgot to introduce me so the first five minutes are sharkless, a bit like
Deep Blue Sea,
but with less Saffron Burrows.
The podcast can currently be found
here
and on iTunes
here
.