1. Institutional Memory
Music is a funny thing. It is entirely subjective and I think most people understand that, yet if you don't
get
an artist it is unlikely that you will ever be objective enough to consider changing your mind.
As an example, I cannot even remotely understand the attraction of Muse and yet will look at you with great incredulity if you suggest that The Stone Roses debut album is anything other than a work of staggering genius. Subjectivity and all that.
And so I come, reluctantly, to Tony Pulis and West Brom. At home. In the freezing cold. With no fit strikers. In February. I wanna, I wanna, I wanna be abroad.
Nothing can convince me that Tony Pulis is good for football. I have seen too many games involving his teams, and had too many days ruined by the grim fare he offers up in the name of pragmatism. As such, I accept that this was a ninety minute exercise in confirmation bias, and I also have to accept that - in this regard alone - Tony Pulis is my Muse.
Anti-football, thy name is Pulis
Whilst it might be true that not all superheroes wear capes, it's also equally true that not all supervillains wear a tracksuit, white trainers, baseball cap and look like an angry British tourist on a Mediterranean cruise complaining to the purser that he can't get his Only Fools and Horses DVD's to work on the TV in his cabin. BUT SOME DO.
2. Posse Comitatus
If playing against a Pulis side is torture, then playing against them when they've taken an early lead is positively horrific. Just two games had passed since we chose not to recruit a right back or centre forward in the transfer window, and the footballing gods decided that was quite enough of that and thus we started this game with both Andy Carroll and Sam Byram missing from the starting line up, in a development as predictable as that new
Pirates of the Caribbean
film being shit.
We actually started this game fairly brightly but that all turned to shit when, on five minutes, Noble needlessly played Feghouli into trouble outside the box. The Algerian went down far too easily, although he was probably fouled, and the resulting loose ball was picked up by Nacer Chadli, who skipped past a static Kouyate and fired the visitors ahead.
It was a dreadful goal to concede in every sense, and condemned us to the most fruitless hour of attacking since Piers Morgan took on JK Rowling on Twitter and got roasted like a Jersey Royal. There was no lack of effort but we resembled a wave trying to crest a sea wall as we tried repeatedly to broach the huge line of Northern Irish Goliaths that Pulis strung across his penalty area like lighthouses.
The primary requirement to play for West Brom isn't really to have any football skill, but if you can't enter a Tube carriage without ducking then you're in. Having taken the lead, the Baggies made no noticeable attempt to add to their lead, which made it all the more galling when Salomon Rondon nearly did exactly that by crashing a fine twenty yard volley against the bar.
Pulis was so infuriated by Rondon needlessly getting himself into such an advanced position that he immediately withdrew his other "attacking" players and had them stand on the half way line pointing and laughing as the Venezuelan fruitlessly chased after the myriad long balls aimlessly booted over his head for the rest of the afternoon.
As the xG map above from
@11tegen11
shows, we created plenty of chances and on another day could have won this game comfortably, but that is not how football works. The best chance of all doesn't even appear here, when Antonio challenged Ben Foster for a goal line header and when the ball fell at his feet, Foster abandoned all pretence at being a footballer and executed a Stone Cold Stunner to make Steve Austin proud. Like everything else in this game, the decision didn't go our way.
For all our bluster, we never looked like getting anywhere until the match turned in the 53rd minute. Chadli made the mistake of attempting to get the ball into the box, which was quite enough for Pulis who hauled him off immediately and replaced him with centre half Jonny Evans, and getting closer to his life long dream of fielding a 1-10-0 formation.
With all pretence at attacking now abandoned by West Brom, we flooded forwarded with no fear of retaliation. With Cresswell having gone off at half time, we were nominally playing 3-5-2, but it was much closer to 2-4-3-1 as Fonte and Reid minded the store while everyone else charged forward.
Thus, with an hour gone Lanzini thumped a long range effort goalward, which Foster brilliantly tipped on to the bar, and God finally revealed himself to have a sense of decency as the rebound was tucked in by Feghouli. On the touchline Pulis fell to his knees, crestfallen at not having enough central defenders on the pitch.
We continued to attack but without the necessary guile to open up a well drilled and, frankly, enormous West Brom back four. At this stage I couldn't stop my mind wandering to the exotic port of Marseille, but before I could yearn too lustily, Lanzini was at it again as he cut inside and smashed a swirling left footer past a static Foster from outside the box, with only three minutes remaining. The keeper didn't move a muscle because - and this is so glorious it gets it's own line -
he was unsighted by all the fucking centre halves on the edge of his box.
But it's not that kind of season for us, and having lollygagged from the 6th minute West Brom got the point they didn't deserve when Evans outjumped everyone to head in a 95th minute corner, in time added on due to West Brom timewasting. And Pulis turned to me and gave me the wanker sign, because he might be the death of football but if you can't defend a corner then he'll kill you all the same.
3. Guns Not Butter
On the point of time wasting, I read an interesting suggestion the other day that matches should last only 60 minutes, but that the ball must be in play for the entirety of that period. Thus, when the ball goes out of play the clock is simply stopped and even if the keeper from - and let's just pick a team at fucking random here - oooooh, let's say West Brom, decides to retie his boots, adjust his socks, scrape non existent mud off his studs, ring his wife to check he has locked the back door and have a shave, before taking a goal kick it would make no difference.
I especially enjoyed the moment after Lanzini's goal when a disconsolate Foster wandered to his post and scraped some mud off his boots like a footballing Wall-E. Unable to process what had just happened, he simply reverted to his core programming and did something he hoped would waste some time.
West Brom did this shit all day, and whilst I accept and appreciate a bit of professionalism I actually felt that referee Michael Oliver's biggest failing on the day was to do nothing about it. Foster should have been booked in the first half, as could any of the back four, including right back Allan Nyom who didn't even bother doing it properly, instead just standing inert with the ball at throw ins until Oliver was forced to blow the whistle to hurry him up.
Now, you probably shudder at the idea of a 60 minute game, but a
2013 study by Soccermetrics
found that the ball was effectively in play during the 2011/12 season for only 55 minutes per game. This will have moved about a bit, but I have yet to see any study putting that figure above an hour. And fair enough too - modern players are being asked to gegenpress their little hearts out and in game recovery is vital. By the way, that study found Stoke to be the Premier League team with the lowest average. See if you can remember who their manager was in 2012.
I may sound like I'm being ungracious, so I should say that the West Brom team carried out their managers instructions to a tee. No opportunity was passed up to waste time, disrupt play, and generally chisel out a tiny portion of the still barely beating heart of modern football. And their fans no doubt love it, riding high as they are in eighth place.
Fair play to them, but there is a price to pay for this bullshit. It eats away at your soul. There is that horrible feeling of being in that famous
Mitchell and Webb
sketch where they suddenly see the skulls and Nazi memorabilia and realise they might be the bad guys.
Yes, you fucking are lads
Alternatively, this feels like a Dorian Gray situation. Somewhere in Adrian Chiles's loft there is a slowly decaying portrait of West Brom, crumbling with every feigned injury and delayed throw in. I've read that book, and I'm telling you now that
I cannot fucking wait
for the end of this particular version.
4. Game On
We attempted 28 crosses in this game, completing just 7 of them, and never really looking dangerous in doing so. This is partially because the West Brom defence is populated by Easter Island statues, but also because crosses aren't a particularly effective way of scoring goals. A study by Liverpool blogger
Bass Tuned To Red
showed that when teams amass lots of crosses, it is generally as a result of being behind and falling into a desperate pattern attempting to recover the game. You should read the piece, but a relevant couple of quotes are shown here:
"What is clear when reviewing the matches in question is that there has often been an air of desperation about the team doing all the crossing.....
if your team is struggling in a match and sending in a truck load of crosses, don't be too surprised if they fail to win."
What was clear in the second half especially, was how West Brom were happy to let us shovel the ball out wide. Our two most frequent pass combinations were Fonte to Kouyate, and Kouyate to Feghouli, which accorded with my recollection of us attacking frequently down the right to little avail.
On another day, when Andy Carroll was on the pitch and Jonathan Calleri was on the beach, we might have capitalised but as it was, cross after cross bounced off the Blackpool Towers in the middle and we had to rely on Lanzini for inspiration.
This is actually a little unfair on Calleri, who I thought showed flickers of decency in his cameo. The trouble is that he is on a loan-to-buy arrangement and won't have the time or opportunity to prove himself (Does that sound familiar, folks?). He'll be good somewhere, but it won't be here. You know it, I know it, he knows it. Just brace yourself - he's going to be that guy that your mates ask you about in a year or two and say
"Hang on a minute - didn't he used to play for you?".
5. Evidence Of Things Not Seen
Seeing the line up for this game had me wondering about Bilic. This was a Redknappian selection, where players were crowbarred into positions they weren't suited for simply to get them in the team. Steve Lomas at right back, Trevor Sinclair in central midfield, Ian Pearce at right wing back. This was Bilic's version of
I Am The Resurrection.
The player most under pressure as a result of all this is Mark Noble, with Pedro Obiang a suddenly consensus pick for Hammer of the Year as a result of scoring and playing well at Southampton. Weirdly, this didn't seem to generate the same credit for Noble who did the exact same thing.
In the event, both did well. Obiang had his passing boots on and was instrumental in slicing open the West Brom rearguard on multiple occasions with pinpoint, searching through balls. Noble did his bit too, attempting more tackles than any other Hammer and generally getting on the ball plenty. There is courage in that, when you are 1-0 down at home to the footballing Antichrist and the fans are getting antsy.
As
@11tegen11
shows in his pass map, both Noble and Obiang got on the ball, but neither were as influential as Lanzini, who had a marvellous game and continues to be the new partner giving us all a reason to smile after divorce from our glamorous French spouse. His movement and vision here was several levels above that of his opponents, and many of his team mates.
All up, I haven't really got any complaints about our performance in this game. We dominated West Brom everywhere and when the initial stuff failed, Bilic gave Pulis a massive tactical fuck you and stopped bothering to defend altogether. That overloading of attacking players eventually wore down the resilience of the visiting automatons and should have got us more than a point.
My issue is not with the performance of this team, but whether this is the best team we could have fielded.
6.
Internal Displacement
Sam Byram was actually on the bench for this game but Bilic simply avoided the decision around dropping Noble or Obiang by playing his best central midfielder - Kouyate - at right back. If Byram is truly not a better right back than Kouyate then we need to give up on that experiment now and move him on. Alternatively, if Bilic just doesn't want to make a tough decision and drop an established player then maybe it is he who needs to be moved on. That's a nonsense, of course, but man - this selection was a mess.
It's a cliche, and cliches are rarely true, but at present it's unlikely that our best eleven contains our best eleven players. The ludicrously unbalanced nature of our squad means we have lots of midfielders and barely any full back or striking cover, and the comparison isn't just whether Kouyate is a better right back than Byram, but also whether he is a better central midfielder than either Obiang or Noble.
To my mind, the answer to that latter question is demonstrably "Yes" and as such, we are weakening ourselves each week we don't play him there. His five goals last season are more than Obiang and Noble have scored between them so far this year, and with our near constant struggle to get advanced support to Carroll in games against better teams, we badly need his athleticism further up the pitch.
I have no real answer to the dilemma, but playing players out of position eventually always goes wrong. They grow resentful of their lack of opportunity, they hate being exposed for failing to do things they aren't good at - Antonio, Nordtveit and now Kouyate have all given away goals in that area - and it can't be great for Byram to be behind his supposedly temporary replacement, especially as he was found out the first time he had to do any actual defending in this game.
Devoted fans will remember the episode of
The Simpsons
when the bosses at the Springfield Nuclear Power Plant replaced Homer with a chicken, and I might have actually reached the point where I would be fine with us trying this.
7. Post Hoc, Ergo Propter Hoc
So, how badly exactly is the lack of a right back costing us this season? I mean, it should be said that the lack of any acting ability has never stopped Sean Bean earning a living. After an, admittedly very brief, analysis I listed the goals conceded that I think were the fault of the temporary right back of the day, and have cost us points. I held myself to a couple of simple rules;
- any game started by Byram is excluded on the grounds of him being a right back
- any game where we got battered is also excluded, as it feels like losing 5-1 at home can't really be blamed on one single player
Chelsea (a) - Antonio - 1 point
Spurs (a) - Antonio/Nordtveit - 3 points
Liverpool (a) - Nordtveit - 2 points
Man Utd (h) - Nordtveit - 1 point
West Brom (h) - Kouyate - 2 points
OK, so let's start with the flaws in this analysis. Nobody can determine with any certainty the impact of a single player, or of one single moment in a game. Well, nobody except Lord Griffiths, Henry Winter and Sheffield United fans, but sadly they weren't available to me as I think they were otherwise occupied posting online abuse of Jessica Ennis-Hill for not wanting to be associated with a rapist.
You can fuck off too, Colin
So, please don't tell me that what I have done here is ludicrous, as I already know that. I'm like the grown men who go on
Soccer AM
and sit in the "stand". I know I look stupid, but I'm carrying on regardless.
What this excludes is any mistakes made by Byram, as he is human and allowed to make them, and crucially he is actually a right back. It also ignores games like Arsenal and Southampton at home where we gave up goals down our right side, but were getting creamed anyway so I can't say it really cost us any points.
But - and this is tenuous but reasonable - it has cost us something. I've suggested nine points above, which is way too high in reality, but there are points lost this season caused by the ridiculous hubris of thinking we didn't need a full back. I don't know who is to blame for that, but whoever it is needs to look at these numbers and weep. Whatever method you use, and whatever number you come up with, our season would look a whole lot better if we hadn't inflicted ourselves with such a brain numbingly stupid wound entirely of our own making.
8.
A Change Is Gonna Come
So Slaven Bilic finally lost his shit today. This has been coming for quite some time, and in fairness, I'm amazed he has lasted this long. We missed out on the Champions League last season at least partially because we had no right back (
Jesus fucking Christ
, Sullivan) but also due to a run of awful, horrendous decisions in huge late season games.
That continued into this season, with the records now showing that any West Ham player getting sent off these days has a fifty percent chance of having it overturned. All teams feel they are hard done by, and maybe they are - who knows, I don't give a shit about what happens to Leicester or Sunderland or Everton. Well, except for the fact that I wish bad things upon Koeman's whinging thugs, so maybe that's not entirely true.
Anyway, the point is that all football fans see injustice everywhere and we're no different, but I'd be happy to put the officiating of West Ham games in the last two season up against anyone's and see who has lost more points due to incompetence.
Which makes it all the more galling that Bilic chose today to go nuts. Because, there really wasn't that much wrong with the officiating. The Antonio foul was egregious, but that happened right in front of me and I didn't see it until I got home.
I felt for Bilic, as I left the ground feeling most decisions had gone against us, but in the end most were right. Feghouli had a goal disallowed in the first half whilst Craig Dawson lay prone in the box having been floored by his own keeper. I'm pretty sure the linesman flagged for a foul initially, but once Oliver confirmed it wasn't a foul they changed their mind and disallowed it for offside and hoped for the best. Replays proved them correct as Antonio was offside and interfered with Foster as he tried to save the shot. In the end, you have to say that was a fine decision.
All the while, Dawson lay on the ground and did what any other 6"2 centre half coached by Tony Pulis would do - he feigned injury.
Bilic also got himself in a lather about the throw that led to the corner from which West Brom equalised, but that looked wrong as well. He should have aimed his ire at Obiang who needlessly conceded the corner that West Brom were so desperately seeking and couldn't have scored without.
I feel sorry for Bilic, as by blowing his top so spectacularly will undo his previous 18 months of reasoned pragmatism after games. The truly sad thing is that if he just did it every week no one would pay any attention. In fact, they'd give him a cute nickname like "
The Special One
", "
The Professor
" or "
Mark Hughes
".
9. The Long Goodbye
It is worth noting that Adrian's contract is up this summer, although we have a two year extension option. I sincerely hope they exercise this, if for no other reason than they could get good money for him on the transfer market.
Better yet would be Adrian regaining his place. I have nothing particularly against Darren Randolph who has performed ably since taking over, but I'm not really seeing anything in his performance to explain why he is ahead of the Spaniard. Their league records this season are as follows:
Randolph - Played 14 Goals Against 23 Clean Sheets 3
Adrian - Played 11 Goals Against 20 Clean Sheets 3
This conveniently ignores a couple of Cup spankings for Adrian, but I'm not penalising him for the fact that we played Man Utd away while under hypnosis.
If this is the upper limit of Randolph's ability then the reality is that it is barely better than the form Adrian showed this season which got him dropped. Players deserve a chance and all that, but you also play your best players, and Adrian seems to me to be a visibly better keeper than Randolph.
10. Enemies Foreign And Domestic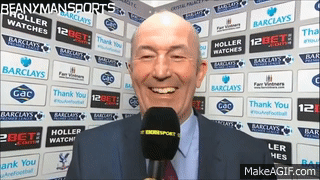 Oh do fuck off